Bindi Irwin has married Chandler Powell and her wedding dress is stunning!
Publish Date

Thursday, 26 March 2020, 9:33AM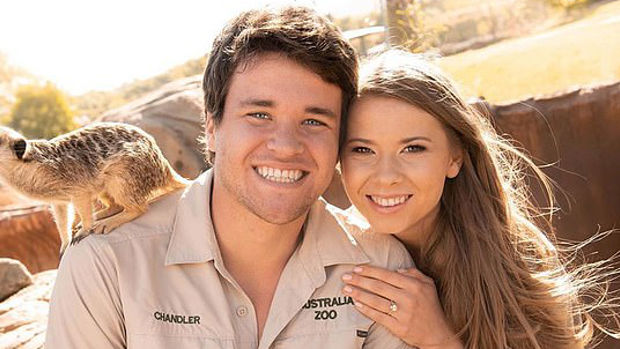 Bindi Irwin is officially married!
The 21-year-old conservationist tied the knot with Chandler Powell at Australia Zoo on Wednesday 25 March, just hours before Australia's government brought in restrictions on how many people can attend a wedding due to the coronavirus pandemic.
Taking to Instagram with a sweet photo from their wedding day, the new bride wrote: "We held a small ceremony and I married my best friend. There are no words to describe the amount of love and light in my heart right now.
"We've planned this beautiful day for nearly a year and had to change everything, as we didn't have guests at our wedding.
"This was a very difficult decision but important to keep everyone safe. We wish all of our friends and family could have been there with us, however, it's lovely that we will be able to share photos and videos.
"Right now we're encouraging the world to hold onto hope and love, which will carry us forward during this profound time in history.
"Today we celebrated life and revelled in every beautiful moment we shared together in our Australia Zoo gardens. Mum helped me get ready, Robert walked me down the aisle, Chandler became my husband and together we lit a candle in Dad's memory.
"We shared tears and smiles and love. Thankfully, since we all live at Australia Zoo as a family, we could be there for each other. To everyone reading this - stay safe, social distance and remember LOVE WINS!"
READ MORE:
• Bindi Irwin has just revealed who she wants to walk her down the aisle and her choice is very sweet!
• Bindi Irwin shares touching video tribute to her dad Steve on the 13th anniversary of his passing
Chandler also shared the same photo, writing alongside it: "We're finally married! Today, March 25, 2020, marks the most amazing day of my life. I married my best friend.
"After almost a year of planning, we changed everything so that we could enjoy a safe and small private ceremony at our home, Australia Zoo. As we embark on this new life chapter I hope that we can share some love in the world, especially during this challenging time."
Bindi's mother, Terri Irwin took to Twitter to share a message of congratulations to the newlyweds: "I am so very happy for you both. Your love shines bright in a world that needs a lot of hope and love right now. I know that Steve would be incredibly proud. Love wins!"
Ahead of the announcement on social media, aerial footage obtained by Seven News showed event planners setting up for the outdoor ceremony, complete with white flowers and a green archway.
A white gown could be seen poking out amongst a crowd of people huddled under umbrellas, and a guitarist waited at the end of the aisle.
Dozens of people were spotted waiting for the ceremony, while two easels displaying photographs had been set up as part of the decorations.
The couple decided to move the date of their wedding forward after Australia Prime Minister announced earlier this week that after 11.59 pm on 25 March, weddings must only have the couple, a celebrant and two witnesses in attendance.
Explaining social distancing rules brought in to curb the spread of the virus, he said: "Large gatherings for weddings, sadly, won't be possible under these new arrangements.
"Sadly, also, and I know this will be very difficult, funerals to no more than 10 persons observing the rules around the four-square-metre rule and the social distancing practices.
"This is not an easy decision. Where we have already found, and Dr Murphy can speak to this, some of the events that have been some of the major transmitting events, it has been exactly these types of events, particularly weddings.
"And that is why, regretfully, we have to be able to put these arrangements in place."
Bindi and Chandler got engaged last July and the Dancing With the Stars winner previously gushed about finding "true happiness" with him.