Cher reveals she wants to reprise her role in a third Mamma Mia film
Publish Date

Monday, 12 April 2021, 12:33PM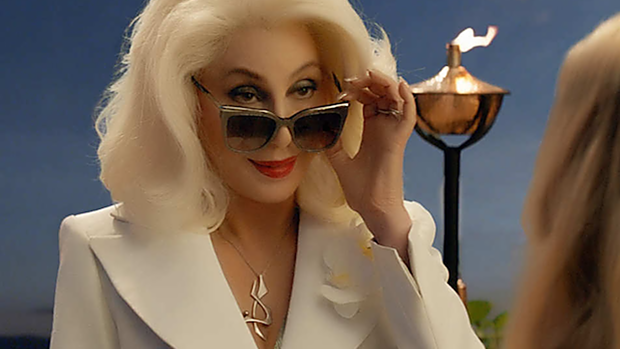 Get excited ABBA fans ... because Cher is ready to become a dancing queen again!
The original creator of the musical has revealed the music legend is keen to reprise her role as Ruby Sheridan so she can duet with her on-screen daughter Donna Sheridan (Meryl Streep).
Speaking to the Daily Mail, Judy Craymer - who produced the feature films Mamma Mia! and Mamma Mia: Here We Go Again!, as well as the original West End musical - said that the 74-year-old star had initially told her "no one wants to see us old people on the screen."
But Cher has since had a change of heart after Crayner admitted she would love to see her sing ABBA's iconic hit 'Slipping Through My Fingers' with Streep, with the singer stating: "I'm there! When do we start shooting?"
Of course, the duet of 'Slipping Through My Fingers' would have to be in the form of a flashback after Streep's character was killed off.
READ MORE:
• ABBA to release new music for the first time in 35 years!
• Björn Ulvaeus says ABBA are closer than ever since coming together to record new music
Although nothing is officially in the works for a third movie, Craymer has always thought of Mamma Mia! as a trilogy.
She also revealed she's excited about the possibility of the entire original cast - including Cher, Streep, Lily James, Christine Baranski, Amanda Seyfried, Colin Firth, Julie Walters, and more - returning for a third film.
Both Mamma Mia! films were huge box office hits, with the 2008 film and its 2018 sequel earning just over $1billion worldwide between them.
Craymer created Mamma Mia! after securing the rights to ABBA's music following her working relationship with Benny Andersson and Björn Ulvaeus on Chess.
The show premiered in 1999 and has since played in more than 40 countries.
We'll be here waiting with our dancing shoes on!