Ed Sheeran sings hilarious rendition of 'Tiny Dancer' with Elton John and Courteney Cox
Publish Date

Monday, 7 June 2021, 9:54PM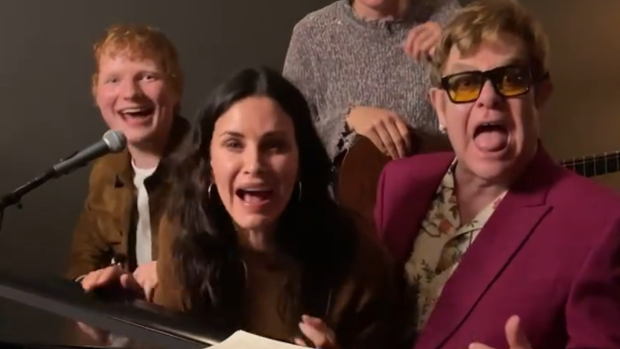 Enlisting the help of some "Friends," Ed Sheeran has dedicated a hilarious rendition of Elton John's 'Tiny Dancer' to Lisa Kudrow.
Joined by the Rocket Man himself, Courteney Cox and Brandi Carlile, the 30-year-old singer performed "the most romantic song ever" as claimed by Kudrow's character Phoebe on the Friends episode 'The One With The Princess Leia Fantasy.'
"Lisa Kudrow, this is for you," Sheeran says to the camera before the foursome belt out "hold me closer Tony Danza."
For the performance Sheeran and Carlile played acoustic guitar while Cox joined in on piano.
Kudrow couldn't help but react to the video, saying: "OK, Ed Sheeran, Courteney Cox, Brandi Carlile and Elton John, that was the most thrilling thing ever. It was so good.
"Technically it's 'Hold me close, Young Tony Danza,' but what you did was great too. And, including the original song that you wrote, Sir Elton, that was really good too."
So good!