Elton John shares adorable video of his sons singing him 'Happy Birthday'
Publish Date

Thursday, 26 March 2020, 5:42PM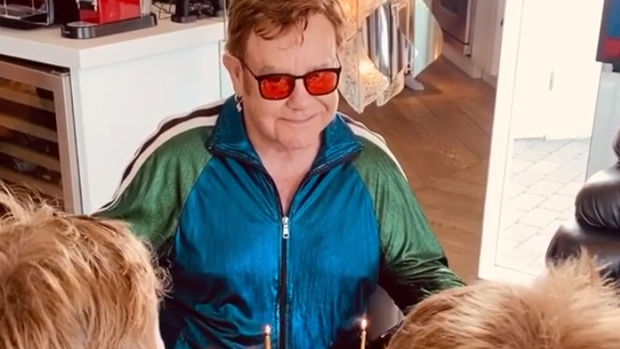 Yesterday Sir Elton John celebrated his 73rd birthday in quarantine with his family amid the coronavirus pandemic.
While the legendary singer usually likes to keep his two sons out of the spotlight, recently he has been sharing more of his private life with fans.
Taking to Instagram, the proud dad gave his followers a rare glimpse of Zachary, nine, and Elijah, seven, by sharing a video of them adorably singing him 'Happy Birthday.' 
Alongside the video, the 'Candle In The Wind' hitmaker wrote: "Grateful for the best birthday ever with my family 🙏🏻❤️🎂🚀." 
The video comes after Elton revealed he is having a "fantastic" time with his sons amid the coronavirus pandemic.
The 72-year-old performer has postponed a string of tour dates due to the contagious condition and is making the most of having to spend most of his time at home with his family.
He said: "I don't think realistically speaking that we, artists, can expect to go back on the road [before summer].
READ MORE:
• This 1991 video of Rowan Atkinson hilariously interviewing Elton John has gone viral
• 14-year-old stuns with her cover of Elton John's 'Goodbye Yellow Brick Road' on America's Got Talent
"And so people are going to take solace in music. They're going to catch up on a lot of movies at home. They're going to get bored. We're playing every day, at 5:30 we play Snakes and Ladders, which in America is called Chutes and Ladders, and it's become a family routine now and it's fantastic.
"To be honest with you, it's great to be able to spend this much time with my boys because normally I don't, even though they've been on the road with us since November in Australia and New Zealand. It's, this is 24/7 with them and it's fantastic."
However, the Oscar-winner also joked his enjoyment of family time may change if they remain under lockdown for a long time.
He quipped: "I mean I'm saying that after a week, check on me in about three weeks."
Elton and David, whom he legally married in 2014, have previously revealed that they would have loved another child but that the 'Rocketman' hitmaker thinks he's too old now.
Elton became a first-time dad at the age of 61 when Zachary was born via surrogate in December 2010.
Elijah was born to the same mother in January 2013.