Rod's strict parenting rules
Publish Date

Monday, 22 January 2018, 8:14AM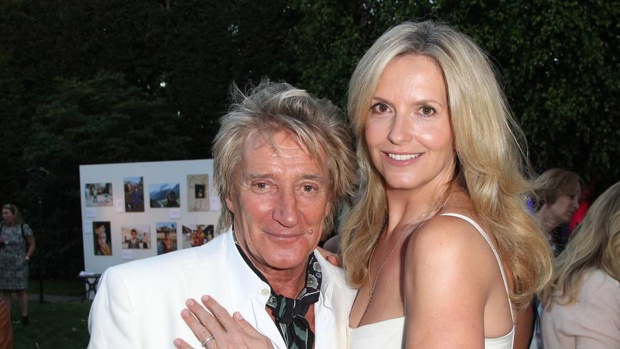 He spent years forging a reputation as a lothario, enjoying the company of leggy blondes and living a full rock 'n' roll lifestyle.
But Rod Stewart has, at the age of 73, shed his wild image, embraced family life and, according to his wife, become an ultra-strict dad according to DailyMail.

Rod Stewart plays to an audience of 22,000 people at the Earl Warren Showgrounds in Santa Barbara, California, 1973. Photo / Getty
In an exclusive interview with The Mail on Sunday's new Life supplement today, Penny Lancaster says: 'The truth is I'm a very traditional woman and Rod – despite everything people may think – is a very traditional man.
'It's true that he absolutely loves glamour and he hasn't got a conventional job, but performing aside, he's happiest at home with all his kids around him.'
Penny, who met Rod when he was 57 and she was 28, also lifts the lid on her husband's strict regime at home, which includes locking the room containing a games console when his sons Alastair and Aiden misbehave or are rude.

Penny Lancaster, Rod Stewart, Kimberly Stewart and Stewart's family. Photo / Getty
'Rod obsesses about keeping the house in order,' says Penny. 'The boys have an Xbox room on which he has put a lock and a cardboard sign which will say things like "No entry. You left the lights on" or "You've been rude to Mummy".'
And Rod also takes revenge on his daughters Kimberly and Ruby if they allow their dogs to mess and then fail to clear it up: 'He has been known to put the poo under their car seats, along with unwashed mugs and plates.'
But despite the rocker's authoritarian approach to parenting, Penny reveals her husband's caring side – and his habit of picking up his sons from school in one of his sports cars. 'Rod is a strict dad but he's also very hands-on. He changed both boys' nappies, he does the school run after a year of coming with me so he knew what to do.
'The boys love it because he'll pick them up in a Lamborghini or a Ferrari.'
And equally, the man who found fame with ballads such as You're In My Heart and I Don't Want To Talk About It has not lost his sentimental side. 'We often do little romantic things – he'll ask me to go for a walk in the garden or have a coffee in the greenhouse together, just so we can have a little time on our own,' says Penny.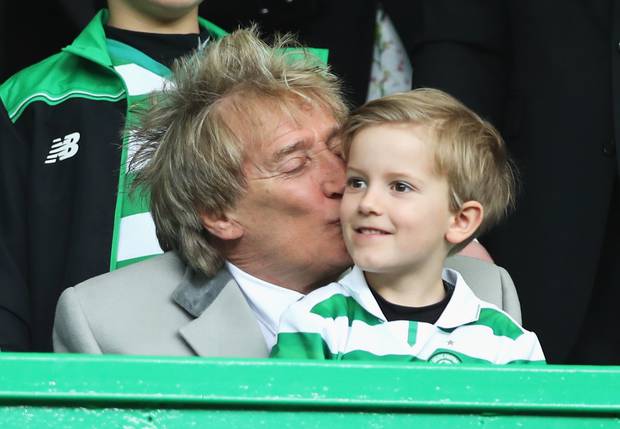 Rod Stewart kisses his son Aiden in the stands prior to the Ladbrokes Scottish Premiership match between Celtic and Rangers at Celtic Park on March 12, 2017 in Glasgow. Photo / Getty
Last year, the couple celebrated their tenth wedding anniversary and speaking of their continued love for one another, Penny, 46, says: 'He wanted to renew our vows after two years, then after five years but I wanted to wait until we'd got to ten. I'm now his wife from his longest marriage and I'm also the oldest woman he's ever been with.'
This article was first published at nzherald.co.nz and was republished here with permission.