George Clooney defends Meghan and compares her to Diana in controversial interview
Publish Date

Wednesday, 13 February 2019, 3:42PM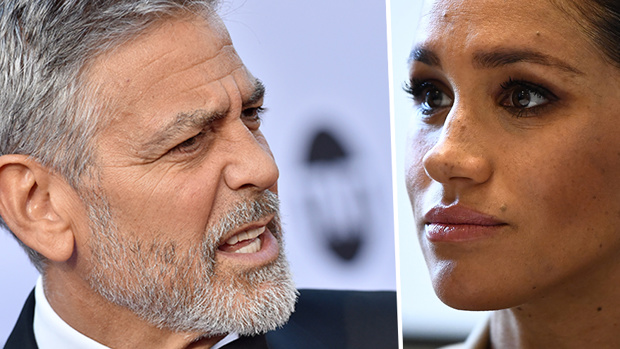 The Duchess of Sussex's estranged father, Thomas Markle, has become infamous for creating a continuous wave of scandals - from staged paparazzi photos to surprise tell-all interviews.
And now, his latest stunt has pushed George Clooney to breaking point.
The Acadamy Award-winning actor has come to the defence of Meghan Markle after Britain's Mail on Sunday newspaper published an emotional private letter she allegedly penned to her father in August last year.
The 57-year-old - who was among the guests when the former actress married Prince Harry in May - has warned history could "repeat itself" if the Duchess continues to be "pursued and vilified" in the same way the Prince's late mother, Princess Diana, was until her death in a Paris car crash in 1997.


Clooney and his wife attend Meghan Markle and Prince Harry's wedding last year.
Clooney told reporters: "I do want to say, I just saw this piece. They're just chasing Meghan Markle everywhere, she's been pursued and vilified."
"She's a woman who is seven months pregnant and she is being pursued and vilified and chased in the same way that Diana was, and it's history repeating itself. And we've seen how that ends," he said referencing Diana's tragic death.
"I can't tell you how frustrating that is, just seeing them broadcast a letter from a daughter to a father, she's getting a raw deal there and I think it's irresponsible and I'm surprised by that," he continued.

Princess Diana gives Prince Harry a smooch.
In the five-page handwritten letter, dated August 2018, Markle describes how hurt she was by her father's actions.
"Daddy, it is with a heavy heart that I write this, not understanding why you have chosen to take this path, turning a blind eye to the pain you are causing," she wrote.
"Your actions have broken my heart into a million pieces — not simply because you have manufactured such unnecessary and unwarranted pain, but by making the choice to not tell the truth as you are puppeteered in this. Something I will never understand."
READ MORE: 
"If you love me, as you tell the press you do, please stop. Please allow us to live our lives in peace. Please stop lying, please stop creating so much pain, please stop exploiting my relationship with my husband."
"I realise you are so far down this rabbit hole that you feel (or may feel) there's no way out, but if you take a moment to pause I think you'll see that being able to live with a clear conscience is more valuable than any payment in the world," she continued.
While speaking at the Television Critics Association conference, George - who has 18-month-old twins Ella and Alexander with wife Amal - also laughed off suggestions he could be a godfather to Meghan and Harry's baby.
"Oh yes, I'll be godfather of the royals apparently," he joked, but quickly clarified: "No!"
"I'm now a father of twins. I've got enough s**t. Literally, literally s**t." 
Take your Radio, Podcasts and Music with you