Michael Bublé reveals the heartbreaking reason he got an MRI after a sledgehammer incident
Publish Date

Friday, 8 May 2020, 11:04AM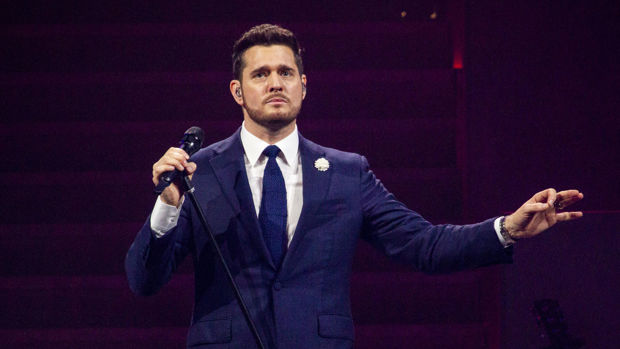 In an attempt to fulfil his grandfather's final wish, Michael Bublé teamed up with the Property Brothers, Drew and Jonathan Scott, on the latest episode of Celebrity IOU.
The episode of the new HGTV series saw the Canadian crooner renovate his late grandfather's house so that his former caretaker could live in it. 
However, Bublé pushed himself a little further than his body was comfortable with during demolition day and wound up having to get an MRI after a sledgehammer incident.
And now the father-of-three has revealed the real reason he decided to have the MRI. 
He said: "With what I went through with my son, I'm a hypochondriac... I thought, 'Oh my god, oh my god, I'm dying,' because there was literally like, a bump.
"It turns out that I'm just out of shape and I'm a wimp and the sledgehammer was too much for me - but I got in there."
The 'It's A Beautiful Day' hitmaker's world was turned upside down when his six-year-old son, Noah, was diagnosed with liver cancer at the age of three in 2016, and whilst he is now in remission, Michael admits he has become so much more conscious of his own health now.
READ MORE:
• Michael Bublé's son makes rare virtual appearance for the first time since beating cancer
• Michael Bublé serenades fan who was unable to attend concert via video call live on stage
The 44-year-old singer also admitted he fears his son's post-cancer check-ups.
He said: "We have to take him every three months for check-ups, and it's really scary ... One of the first things a doctor told me at one of the hospitals we'd gone to was to stay strong and help each other through this.
"When we had asked why the doctors keep telling us that, this friend of ours who works with families going through things like this, said that something like 92 per cent of couples who go through this ... get divorced.
"And many of the eight per cent who don't, have more children. And of course, my wife and I thought, here we are with a beautiful daughter."
Michael and his wife Luisana Lopilato are also loving parents to son Elias, four and daughter Vida, one.