Prince William and Kate Middleton share new photos of their children meeting David Attenborough
Publish Date

Monday, 28 September 2020, 8:22AM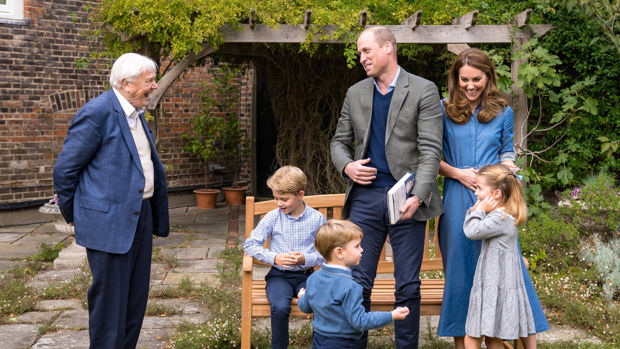 Could the Cambridge family be any more beautiful?!
Kate Middleton and Prince William took to social media over the weekend to share two adorable new photos of their three kids - Prince George, seven, Princess Charlotte, five, and Prince Louis, two - meeting Sir David Attenborough.
According to the royal's official Facebook account, the photos were taken last week in the gardens of Kensington Palace when the Cambridges held an outdoor screening of the famed television broadcaster and environmentalist's upcoming feature film, David Attenborough: A Life On Our Planet.
In the first photo, the Duke and Duchess of Cambridge are surrounded by their children; including one very excited Princess Charlotte who can't quite believe Sir David is in her own backyard, judging by her expression in the picture.
The second snap shows William and his two sons sitting on a bench, with George holding a giant shark tooth which was gifted to him by Attenborough.
Kensington Palace captioned the photos: "The Duke and Duchess of Cambridge are delighted to share new photographs of their family with @DavidAttenborough.
"When they met, Sir David gave Prince George a tooth from a giant shark the scientific name of which is carcharocles megalodon ('big tooth').
"Sir David found the tooth on a family holiday to Malta in the late 1960s, embedded in the island's soft yellow limestone which was laid down during the Miocene period some 23 million years ago.
"Carcharocles is believed to have grown to 15 metres in length, which is about twice the length of the Great White, the largest shark alive today."
David Attenborough: A Life On Our Planet will premiere on Netflix on October 4.