Teen pregnancy bombshell rocks Coronation Street
Publish Date

Wednesday, 28 November 2018, 3:24PM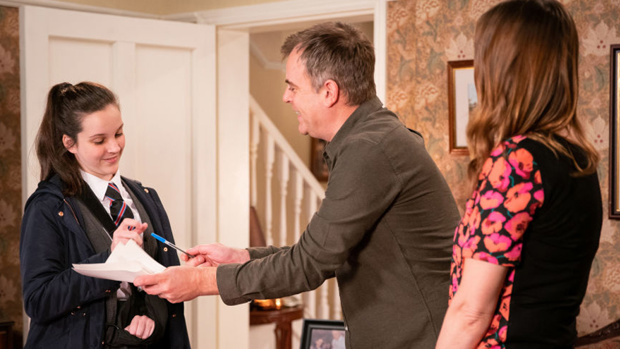 WARNING - CORONATION STREET SPOILERS BELOW
Tracey and Steve Barlow are going to be rocked by the news of their 14-year-old daughter's pregnancy in the new year.
Amy Barlow will find out that she is pregnant in a few months, which will send everyone around her into a state of panic over not knowing what to do with the baby.

Photo / ITV
Despite rumours of Tracey and Steve trying to convince Amy to get an abortion, reports suggest that the young girl will decide to keep the baby. 
READ MORE: 
Digital Spy has reported that Amy initially agrees with her parents and is going to terminate the pregnancy, deciding that she isn't ready to become a parent yet.
After some more thought, she realises that she actually wants to keep the baby and carries on with the pregnancy.

Photo / ITV
READ MORE: 
News of this baby comes just after Amy finds herself at the centre of a fight between her parents as Tracey is set on getting revenge after Steve cheated on her.
Amy forces them to sign a contract, preventing them from fighting for their own good.
While ITV hasn't confirmed the pregnancy yet, Amy has become a very prominent character over the past few months and it makes a lot of sense.
Take your Radio, Podcasts and Music with you