Tom Hanks' wife Rita Wilson shares "Quarantunes" playlist for anyone self-isolating for coronavirus
Publish Date

Monday, 16 March 2020, 11:39AM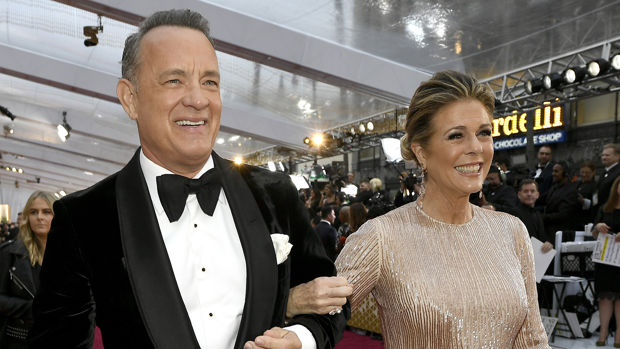 It seems Tom Hanks and his wife Rita Wilson are using music to make their days in self-isolation more upbeat after testing positive for coronavirus.
The couple - who are currently in Australia to film the Elvis Presley biopic, in which Hanks is set to play Presley's manager - announced last Thursday that they had both tested positive for the wide-spreading disease.
One day later, Wilson took to Twitter to ask fans for suggestions regarding a playlist — a quarantine playlist.
Posting on Friday night, the 63-year-old wrote: "Hi guys! I want to make a playlist for people self quarantining. Something that might relate to isolation, perhaps? Can you send some song ideas that I can add? Also, what should we call it?... This is what one does in quarantine. U think of stuff like this."
A few hours later, the actress returned to the social media platform with the title of her playlist after fans issued a slew of suggestions.
She announced: "And the winner for the quarantine playlist naming is QUARANTUNES!"
The playlist features 28 relevant tracks like Billy Idol's 'Dancing with Myself', the Bee Gees' 'Night Fever' and MC Hammer's classic 'You Can't Touch This.'
READ MORE:
• Coronavirus: Air New Zealand to cut international capacity by 85 per cent in trading halt
• Céline Dion, Cher, Billy Joel and Michael Bublé postpone concerts amidst coronavirus outbreak
For anyone self-isolating, the playlist definitely has some great tunes to bring some light to a bleak situation.
Last night, the Forrest Gump star also shared a picture during their coronavirus containment.
Alongside a shot of some vegemite on toast, he wrote: "Thanks to the Helpers. Let's take care of ourselves and each other. Hanx."
The full Quarantunes playlist:
Right Here Waiting - Richard Marx
Grateful - Rita Wilson
Leaving on a Jet Plane - Rita Wilson
Lonely People - America
So Far Away - Carole King
Amazing Grace - Sleeping At Last
Don't Let Me Be Lonely Tonight - Rita Wilson
All By Myself - Eric Carmen
Dancing with Myself - Billy Idol
Rockin' Pneumonia & the Boogie Woogie Flu - Johnny Rivers
I Wanna Be Sedated - The Ramones
Insomniac's Lullaby - Paul Simon
I'm So Tired - The Beatles
You Say - Lauren Daigle
Rise Up - Andra Day
Come Healing - Leonard Cohen
Love Will Keep Us Together - Captain & Tennille
I Will Survive - Gloria Gaynor
Girls Night In - Rita Wilson
Survivor - Destiny's Child
I Want To Break Free - Queen
Locked Up - Akon
Don't Worry Be Happy - Bobby McFerrin
Go On Through It - Rita Wilson
Stronger (What Doesn't Kill You) - Kelly Clarkson
The Climb - Miley Cyrus
U Can't Touch This - MC Hammer
Night Fever - Bee Gees
Sometimes Love - Rita Wilson
Stuck With You - Huey Lewis & The News
Hello Walls - Willie Nelson
I Want A New Drug - Huey Lewis & The News