Sam Wallace proposes to his partner Sarah live on air!
Publish Date

Tuesday, 8 December 2020, 4:03PM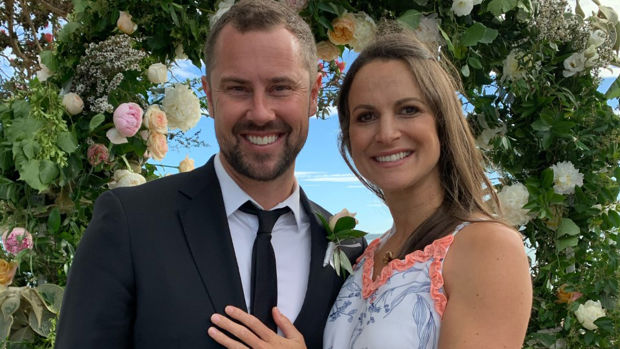 It has been a massive year for our very own Sam Wallace and now congratulations are in order again ...
The Coast Feel Good Breakfast host has just proposed to his long-time partner Sarah Bowman after eight years together!
Getting down on one knee at Narrow Neck Beach in Auckland's Devonport, Sam caught Sarah by surprise as he popped the big question with a stunning diamond ring - designed by Naveya & Sloane.
The emotional moment was planned with the help of his co-hosts Jason Reeves and Toni Street, who were planning to renew their vows after 10 years of marriage to their partners, Louise and Matt.
But the entire event was actually a decoy.
Wallace stopped the ceremony when Coast's newsreader/celebrant Kay Gregory asked if there were any objections, and shocked listeners by revealing the event was actually happening for a "very different reason".
"It's a celebration for another day," he said.
Wallace then approached a shocked Bowman with a microphone, confessing the reasons behind his proposal, including wanting to give her the same last name as their children.
"I'm not doing this because you are the most incredible mum, because you are, that's not the reason I'm doing this," he said.
"The reason I'm doing this is because I can't imagine my life without you in it," he told her.
Jase then handed Sammy the diamond ring which Bowman slid on her finger after accepting Wallace's proposal, saying: "Absolutely, of course I will!"
Ahead of the proposal, Sam said: "I just can't wait for her to see the ring, I can't wait to see it on her finger. I just can't wait to cement our relationship into the future. 
"Everything I do I share on the radio. I share my life with our Coast listeners and it would be remiss not to include them in this gigantic part of my life."
Speaking about the proposal, Streety said: "This has been such an amazing thing to be a part of, there has been so much excitement and anticipation, I'm so so happy for Sammy and Sarah.
"Keeping this secret has been tough, especially when people have asked for details about our vow renewal, but Sammy is an all or nothing kind of guy so the fact that in 2020 he's had the epic news he's having identical twin girls, now he's pulled off a big surprise engagement is so typical of him!"
While Jase added: "This was such an epic secret to keep and I think I was almost as nervous as Sam was!"
"It's been such an exciting few months with lots of moving parts, so thank you to my wife Louise and Toni's hubby Matt for being a big part of the plan - and helping keep the secret right from the start!"
Earlier this year Sam announced the exciting news that he will soon become a father of identical twins, with Sarah due to give birth in February.
The couple are already parents to one-year-old Brando, who they welcomed into the world after suffering a devastating miscarriage.
Congratulations Sam and Sarah!