The Outrageous First Birthday Invite That Everyone Is Talking About
Publish Date

Thursday, 23 April 2015, 2:17PM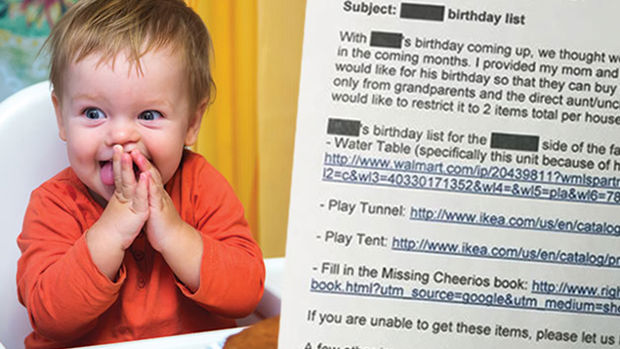 Choosing presents for a baby's birthday can be a lot of fun… that is unless you're told exactly what you have to buy!

These parents have gone to extreme lengths to ensure that their son has the perfect first birthday, with an invite unlike anything we've ever seen!

Redditor razz32 posted the unbelievable email, with the heading Most demanding 1st birthday invite ever, just a few days ago after a work colleague, who was on the guest list, shared it with the rest of the office... and it has now gone viral.




The unofficial invitation includes website links for four specific gifts (a water table, play tunnel, play tent and book) and invitees are told "If you are unable to get these items, please let us know so that we can buy them right away for him."

And it gets better... guests are asked to include receipts with their presents, not to buy books other than the one listed and to "refrain from any personalised gifts that would be used outside of the house."

The parents finish up with "Please let us know if you have any questions about any items not on this list that you are considering purchasing and we can let you know if we already have it or if it is in storage waiting for him" and say that a formal invite "will be arriving in your mailboxes soon..."

How would you react if you got an invite like this?