Man Leaves $3000 Tip to Struggling Waitress – And the Reason He Does It Is Equally Touching
Publish Date

Friday, 1 May 2015, 5:12PM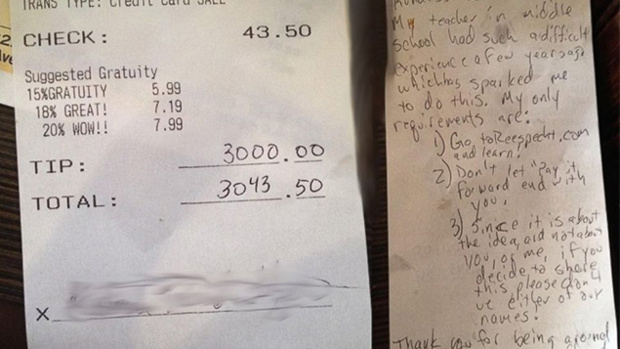 As often as we hear about all of the bad things going on in the world today, there seems to be less attention on acts of kindness between Good Samaritans and every day people struggling in today's work environment.

Last week a man known simply as 'Mike' left a nearly 7,000% tip for his waitress. He and his family had gotten to know her from being frequent guests in her section, and they empathised with her hardships.'

Mike explained:

    "This woman had been serving us for almost a year now. She's a lovely individual, and she talked about how she was served an eviction notice last month."


In addition to a $3,000 tip, they left a note that read, in part:

    My teacher in middle school had such a difficult experience a few years ago, which has sparked me to do this. My only requirements are:

    1) Go to ReeSpecht.com and learn!

    2) Don't let "Pay it forward" end with you.

    3) Since it is about the idea, and not about you, or me, if you decide to share this, please don't use either of our names!

Mike had been wanting to 'pay it forward' thanks to his 8th grade science teacher, Rich Specht, who started a foundation called ReeSpecht Life after his son tragically drowned. The organisation promotes random acts of kindness.

    "I met Mr. Specht in eighth grade — I was his science student – and he's an incredible human being. To see something so horrible happen to him … it doesn't surprise me that he would start a foundation out of something so horrible that would just continue to keep good around and to keep wonderful things going."

When Mr. Specht heard about his former student's inspired act, he claimed it would have made his son happy to know that such a special deed had been done in his honour.
Find out more at www.reesspechtlife.com.
Take your Radio, Podcasts and Music with you