Man Whose Touching Photo With Arthritic Dog Went Viral Has a New Dog
Publish Date

Tuesday, 3 March 2015, 10:41AM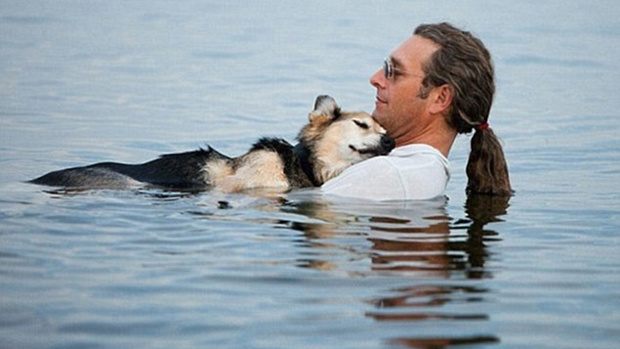 A man who touched millions with a photo of him taking his arthritic dog into the water to ease his pain, has a new pet.

John Unger, from Bayfield, Wisconsin, took his former dog Schoep into Lake Superior to help with the animal's arthritis, and his friend Hannah Stonehouse Hudson captured an image that reached millions in 2012.

Schoep, a shepherd mix, later died in July 2013 at the age of 20.






Mr Unger has now adopted a new dog named Bear, a year and seven months later.

"I am whole again..." John posted on Facebook. 






Bear is a one-year-old 70 lb Akita-Shepherd-Labrador mix adopted from the Northwoods Humane Society.

Mr Unger says that Schoep was instrumental in his battling depression following a bad breakup when he adopted him as a puppy in 1993.

He said the dog helped him fight thoughts of suicide.

The man, now in his 50s, later repaid the faithful canine, who had been abused by his previous owner, by taking him into the water to ease pain from inflamed joints.

Thousands of dollars raised after the photo went viral helped pay for laser treatments for Schoep before he died.

'It was really tough after Schoep left and didn't know what to do with my time,' Mr Unger said, according to USA Today.

'It was re-learning how to live and once I learned that and once I got through the toughness of his love that's when I started searching again.'

Mr Unger said that he still talks to Schoep and thanks him for everything.


Source
Take your Radio, Podcasts and Music with you