SeaWorld's Killer Whale, Tilikum, Has Serious Illness
Publish Date

Wednesday, 9 March 2016, 2:12PM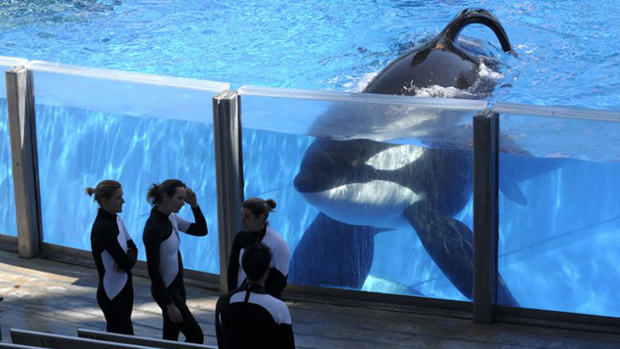 Tilikum has been held captive at SeaWorld for 23 years. The orca became a household name after the 'Blackfish' documentary and is now fighting for his life.
Officials at the ocean attraction have revealed the 35-year-old whale has become lethargic and his health is deteriorating. Staff are currently treating Tilikum for what they believe is a bacterial infection, but his condition isn't improving.
In an official statement, SeaWorld say: 'We are saddened to report that over the past few weeks, Tilikum's behavior has become increasingly lethargic, and the SeaWorld veterinary and animal care teams are concerned that his health is beginning to deteriorate.'

'Based on his size at collection in 1983, we estimate that he is about 35 years old, which is near the high end of the average life expectancy for male killer whales.'

'Since Tilikum became a part of SeaWorld's family 23 years ago, he has received the best in marine mammal health care and life enrichment available for killer whales – including a focus on his physical health, mental engagement and social activity with other whales.'

'Despite the best care available, like all aging animals, he battles chronic health issues that are taking a greater toll as he ages.'

'Our teams are treating him with care and medication for what we believe is a bacterial infection in his lungs. However, the suspected bacteria is very resistant to treatment and a cure for his illness has not been found.'

'Our veterinarians are focused on managing his illness in a way that makes him comfortable and creates an enriching life.'
In his 23 years of captivity at SeaWorld Tilkum has reportedly killed three people, two trainers in 1991 and 2010 and a man who entered the enclosure after hours in 1999.
Watch the 'Blackfish' trailer to understand how much keeping a whale in captivity effects it's mental stability.
Take your Radio, Podcasts and Music with you