Single Dad Gets Unexpected Note From Strangers
Publish Date

Saturday, 30 May 2015, 10:53AM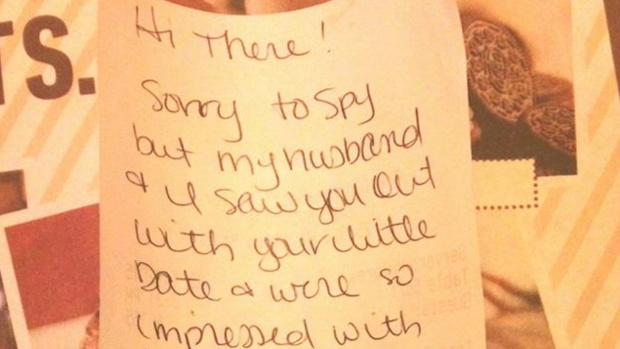 Being a single parent is rewarding, yet hard all the same. Strangers dining at the same restaurant as Reddit user Ourcouchespulloutbutwedont and his six-year-old daughter understand this all too well. In fact, they understood and empathised so well that they left him this note and even paid for their Valentine's Day dinner!




The note reads:
"Hi there! Sorry to spy, but my husband and I saw you out with your little date and were so impressed with what a great dad you are. From two adults who grew up without dads, it's so important to have a male role model at a young age. Keep up the good work Dad! Dinner is on us! :)"

The father put the note on Reddit, where he explained how much their kindness touched him: "I wont lie, I teared up at the table. So, thank you random strangers. Thank you."

"I wish I could thank them," he wrote.
Take your Radio, Podcasts and Music with you