Woman Left Unable To Smile After Road Rage Attack
Publish Date

Friday, 24 April 2015, 7:00PM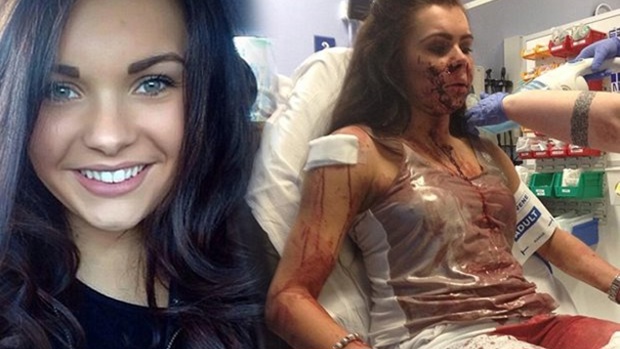 You know how when you're in traffic and you lock your doors, you feel a little silly and paranoid?

Don't.

Terrible things can happen to you when you're sitting in your car, a place that seems safe enough, as Chloe Knapman from Holmfirth, West Yorkshire knows.

Knapman was sitting in a traffic jam when she was unexpectedly attacked by a stranger as he smashed down her car window with a bottle.

Glass fragraments from the window and the bottle became embedded in her neck and Knapman was rushed to hospital.

According to a report on The Daily Mail, the 21-year-old was driving home from a night out with a friend last Thursday night, her friend in one car and Knapman in her own car when they noticed a bike lying in the middle of the road.

Knapman's friend stopped to get out of her car and move the bike out of the traffic, when a man at a nearby bus shelter came hurtling towards her with a glass bottle in hand.

The stranger hurled abuse at the friend before walking up to Knapman's car and smashing the bottle against her window.

The impact left deep cuts to Knapman's face, neck and shoulders, with the bottle itself becoming embedding in her neck.

After being rushed to Leeds hospital, Knapman underwent surgery and was given stitches for her injuries, including several on both sides of her mouth.

 


Her mother Allyson revealed that she can no longer smile because of the stitches around her mouth. 'She can't smile. She can't eat so she has liquid food,' she said.

'They were extremely deep wounds to her shoulder and a two or three inch wound to her neck, which was embedded with bottle.'

The dancer was also left with a deep cut to her shoulder, a deep wound to her neck and cuts between her nose and mouth. She also lost a tooth in the ordeal.

Knapton is an aspiring cruise ship dancer and runs her own dance school. She has received hundreds of messages of support from her friends and colleagues.

The man believed to be behind the attack is Andrew Shires, a 37-year-old man from Holmfirth. He has appeared at Kirklees Magistrates' Court, charged with wounding the woman. He was remanded in custody until his next appearance at Leeds Crown Court on May 5.



Source: The Daily Mail
Images via Chloe Knapman Facebook
Take your Radio, Podcasts and Music with you