Cafe In Germany Gives Customers Hilarious Hats With Pool Noodles To Keep Them Apart
Publish Date

Monday, 18 May 2020, 5:01PM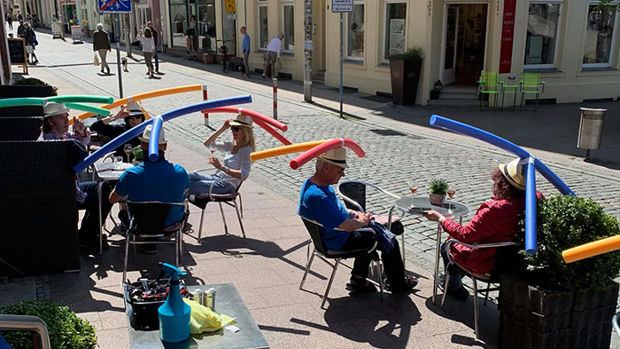 European countries are starting to slowly come alive again. One of them is Germany, where previous restrictions enforced by the state-wide lockdown measures are being relaxed. 
The federal government has announced the lifting of more restrictions which gave an opportunity for restaurants to start working with certain restrictions. A cafe in Schwerin called "Café Rothe Schwerin" recently restarted its business by serving its patrons outside. It also made sure to space out the tables by 1.5m to keep some distance between the customers, which is what every restaurant ought to do.
However, the owner of "Café Rothe Schwerin", Jacqueline Rothe, went the extra mile and came up with an ingenious idea to make sure the patrons keep their distance—pool noodles! The business is using pool noodles attached to customers' hats to help them with social distancing! 
It's a hilarious idea that clearly works! With a lot of kiwis not following the level 2 distancing rules, maybe Jacinda should make people start wearing them permanently!