High heeled crocs are a thing - and they're flying of the shelf
Publish Date

Friday, 20 July 2018, 3:33PM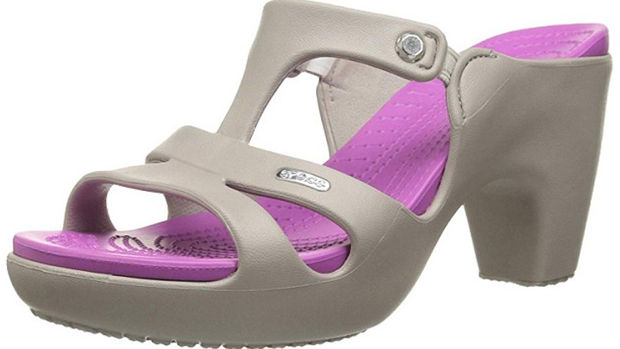 The fashion sphere has been flooded with a funky variety of Crocs over the past few years, and now the controversial clog brand is adding its own quirky update to the mix: a high-heeled version of its classic shoe that has left social media users in complete uproar.
Named the Cyprus V Heel, the shoes comes in black, platinum and 'wild orchid,' and can be bought on Amazon between $80 -$224.39; they are currently sold out on the Crocs website, but were previously listed for $55, according to Bored Panda.
Crocs already has different variations of its women's heels and wedges that it promises are 'casual and comfortable', this latest heeled design appears to have struck quite the chord with social media users, perhaps thanks to their rather bizarre aesthetic which is a mix between a chunky pool shoe and a typical high-heeled sandal.
But if you're thinking of buying the heeled shoes, in addition to casualness, Crocs assures shoppers that the design will afford them the chance to 'get all the fashion without sacrificing the comfort,' according to its website. 
The shoes can also, according to Crocs, be 'dressed up or down'.
However, despite the brands positive claims about the new release, people online aren't wholly convinced by the new heeled Crocs, and quickly took to social media to share their doubts about the footwear - while also taking the chance to mock the brand at the same time.
One person wrote on Twitter: 'There are so many sad things going on in the world right now. We didn't need to add high heel Crocs to the list.'
Another tweet said: 'Just in case anyone wants to look ridiculous, they make high heel Crocs now, you're welcome.'
'Just heard this world has produced/released high heel Crocs. I'm out' and another tweet said: 'High heel Crocs. I can't unsee this so neither can you!'
And more people took to the social media platform to share their disdain for the style with one person who tweeted: 'High heel Crocs...you are monsters.'
'Spent a long time looking for a particular style of high heel, finally find them and they're made by Crocs,' one tweet said. 'They're technically high-heeled Crocs. Can I do that to myself? I feel like I'd burst into flames the moment I put them on.'
But there were some people who were actually fans of the high-heeled Crocs and shared their love for the shoe with one that said: 'I want those high heel Crocs is that bad.'
This article was first published on dailymail.co.uk and is reproduced here with permission.