Michael J Fox, Lea Thompson, Christopher Lloyd and Thomas Wilson reunite and discuss the possibility of a reboot
Publish Date

Monday, 13 August 2018, 3:26PM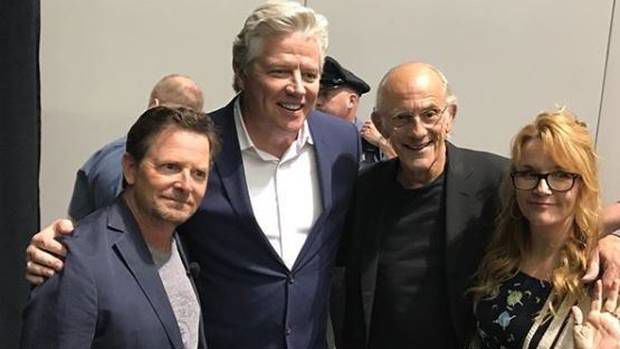 Original stars of Back To The Future Michael J Fox, Lea Thompson, Christopher Lloyd and Thomas Wilson have reunited 33 years on from the release of the first film in the popular sci-fi franchise.
The quartet - who played Marty McFly, Lorraine Baines-McFly, Doc Brown and Biff Tannen respectively - gathered for a panel discussion and a behind-the-scenes photo at Fan Expo in Boston this weekend, with organisers estimating more than 50,000 would attend the three day exposition from August 10-12.
Three of the four actors took to their Instagram pages to post the group snap, with Thompson captioning it 'Four old friends get back from the future' and Lloyd posting 'This was special'.
The cast noted that Crispin Glover was notably absent - having played Fox's character Marty's father in the original - with Lloyd tagging him in the shot for good measure.
The foursome - who starred in all three films in 1985, 1989 and 1990 respectively - last got together in 2015, when the original movie turned 30.
And while they happily reunite for events like the Boston expo, the thirst for a fourth film in the Back To The Future franchise doesn't seem to be tempting them back to the big screen together.
At the panel discussion, the stars shut down any suggestion that there will be a Back To The Future Part IV.
READ MORE: 
'Basically, I think America is saying, "Come on they've wrecked every other franchise with bad sequels, why not this one?"' quipped Wilson when asked about it. 'C'mon, we would watch it until it sucks.'
Adding to this, Fox explained that the 'gatekeeper of the franchise' is original co-creator Bob Gale, and he has no interest in a reboot.
Both Gale and co-writer and director Robert Zemeckis have expressly stated that any kind of revival or remake based on the original will be blocked, as long as they have anything to do with it.
This article was first published on dailymail.co.uk and is reproduced here with permission.