Allyson Gofton shares her chocolate Anzac biscuits recipe
Publish Date

Saturday, 22 April 2023, 2:00AM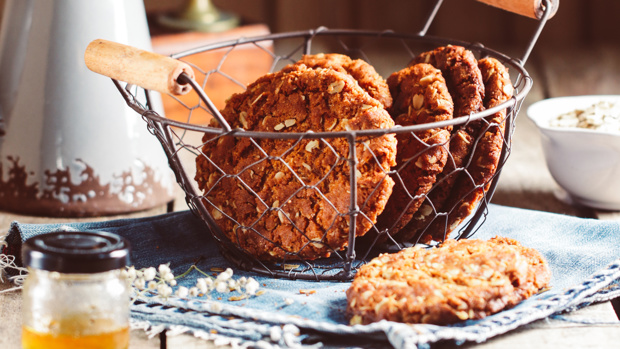 Created with love, this Allyson Gofton recipe is a celebration of our soldiers and a home-baked Kiwi classic!
15 minutes
12-15 minutes
Makes about 36
Ingredients:
1 cup flour
1 cup sugar
1 cup rolled oats
1 cup desiccated coconut
175 grams butter
2 tablespoons golden syrup
1 teaspoon vanilla essence
1 teaspoon baking soda
2 tablespoons boiling water
150 grams dark chocolate
Method:
Preheat the oven to 180ºC. Lightly grease 1-2 baking trays or line them with baking paper.
In a large bowl, sift flour with a good pinch of salt. Stir in the sugar, rolled oats and coconut and make a well in the centre.
In a saucepan, melt the butter, golden syrup and vanilla essence together.
Dissolve the baking soda in the boiling water. Mix into the melted butter and quickly pour into the well. Mix all the ingredients together quickly.
Roll tablespoonfuls of the mixture into balls and place on the prepared trays. Flatten with the tines of a floured fork.
Bake in the preheated oven for 12-15 minutes until the biscuits have flattened out and have become a reddish-brown colour.
Transfer to a cake rack. They will crispen as they cool.
Melt the chocolate either in the microwave or over the top of a double saucepan.
Dip half an Anzac into the melted chocolate and allow the excess to fall off.
Place on a baking paper-lined tray and allow the chocolate to set before storing them in an airtight container.
Take your Radio, Podcasts and Music with you