Allyson Gofton shares her deliciously rich chocolate, prune and fig Christmas cake recipe
Publish Date

Friday, 20 November 2020, 8:35PM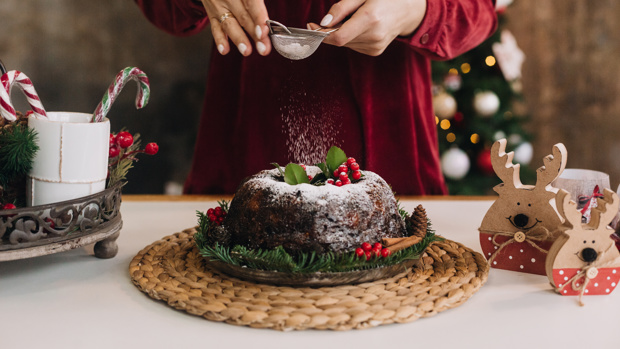 Looking a joyous way to celebrate Christmas? Why not make a cake? Figs and prunes are tantalising partners to quality chocolate, giving this Allyson Gofton Christmas cake recipe a contemporary twist.
 20 minutes, marinating time: overnight
 2½ hours
 Makes 1x 20cm cake
Ingredients:
2 cups glace fruits, diced
2 cups prunes, diced
1¼ cups raisins or sultanas
1¼ cups figs, diced
grated rind of 2 oranges
1/3 cup orange juice
¼ cup brandy
¼ cup cherry or plum jam
2 teaspoons each vanilla and almond essence
1½ teaspoons nutmeg
1 teaspoon mixed spice
2½ cups flour
1 tablespoon baking powder
3 eggs
1 cup muscovado or molasses sugar
¾ cup oil or softened butter, see tip
100 grams chopped dark chocolate
Method:
The day before baking:
Toss together the glace fruits, prunes, raisins or sultanas, figs, orange rind and juice, brandy, jam, essences, nutmeg and mixed spice. Cover and set aside overnight.
The next day:
Preheat the oven to 160ºC. Grease and double-line a 20cm square cake tin with baking paper. Wrap the outside of the cake tin in several layers of newspaper and tie with heatproof string. This helps avoid the outside of the cake from overcooking and becoming dry. Set the oven rack just below centre.
Sift the flour and baking powder together twice. In an electric benchtop mixer, whisk together the eggs and sugar until thick. Gradually whisk in the oil or softened butter to make a thick mix. Stir in the sifted dry ingredients, chocolate and marinated fruit.
Pack firmly into the prepared cake tin. Using a spatula, level off the top and then carefully make a shallow dent in the centre of the cake; this helps keep the cake level when baking.
Bake in the preheated oven for 2-2½ hours or until the cake has cooked. The centre will be firm to the touch. If the cake begins to brown too much, cover with foil or baking paper. Cool in the tin until cold before removing.
Leaving the baking-paper lining on the cake, wrap the cake in layers of greased paper and foil and, if time permits, leave for 2 weeks before serving. This allows the cake time to set, ensuring it does not fall to pieces when cut and also time for the flavours to mature. The cake is best kept in a container once wrapped.
Cooks Tips:
You could before serving, decorate with glace fruits, chunks of chocolate and orange rind and then drizzle with warmed seedless jam if wished.
For this recipe, I used Olys nut and cereal oil, but you can also use melted and cooled coconut oil or if you'd prefer to use butter the traditional way, beat the butter with the sugar until creamy, add the eggs one at a time and continue as above.
When baking, keep an eye on the fruit to ensure it doesn't become too brown.
Pour a further ¼ cup brandy over the cake before storing for 2 weeks to add that special brandy note.
Take your Radio, Podcasts and Music with you