Allyson Gofton's tamarillo chutney and goat's cheese pinwheel scones recipe
Publish Date

Sunday, 12 February 2023, 10:00AM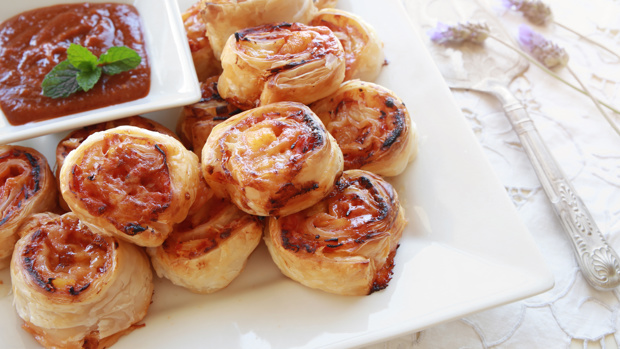 These delicious savoury pinwheels by Allyson Gofton are quick and easy to make.
Plus, cooking the pinwheels in muffin tins also adds a twist – they keep a neat shape, and look delightful when served.
15 minutes
12-15 minutes
Makes 12
Ingredients:
Scone dough:
3 cups self raising flour
75 grams butter, chilled
1 egg, beaten
1 1/4 cups milk
Filling:
1/2 cup For the Love of Tams, tamarillo chutney
125 grams Drunken Nanny fresh goats cheese
50 grasmblue cheese,crumbed (optional)
Method:
Preheat the oven to 200°C fan bake. Grease 12 muffin tins. If you can, cut 12 small baking paper discs and place in the base of each muffin tin.
Sift the flour and salt bowl. Grate the chilled butter or cut the butter into small cubes. Rub the butter into the flour until the mixture resembles bread crumbs. Use a wooden spoon to make a well in the centre.
In a jug beat together the egg and milk. Pour into the well and stir with the knife or the handle of the wooden spoon and mix to a soft dough that's firm enough to roll out. Turn the dough out onto a lightly floured bench and knead lightly into a ball.
Roll out to approx. 23cm x 35cm oblong. Brush a 1.5cm edge all the way around the dough with a little milk. Dot the goat's cheese over the dough and then with a warm knife or spatula, spread each dollop of goat's cheese out a little to cover the scone dough with as evenly as possible. On top of the goat's cheese, spread over the tamarillo chutney leaving the long sides 1.5cm edge free of the chutney, but not the shorter 23cm edges.
Roll up from the longer edge arranging the join underneath. Cut the dough into 12 even-sized rounds and place cut side-down in the greased muffin tins. Dot the blue cheese on top, if using.
Bake in the preheated oven for 12-15 minutes or until well-risen and golden. Serve hot with extra goat's cheese and tamarillo chutney. Delicious.
Take your Radio, Podcasts and Music with you