Antiques Roadshow guest stunned as 'rubbish' watch is valued at NZ$38,000
Publish Date

Wednesday, 6 September 2023, 3:07PM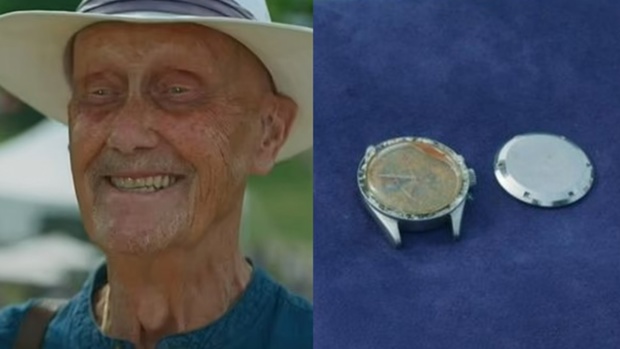 A guest on Antiques Roadshow has been left gobsmacked by the true value of his broken watch.
The hugely popular British series is back on screens in the UK, and the most recent episode saw experts travel to Swanage Pier to judge guests' family heirlooms and treasures, reports the Daily Mail UK.
Among them was a rare Omega watch that its owner admitted had been run over with a lawnmower and left in pieces.
But expert Richard Price quickly assured the man it belonged to that the item was still worth keeping, as it was incredibly valuable.
Sign up for Coast's newsletter for exclusive prizes and to keep updated with the latest.

"As you know, this was the first watch worn on the moon," he joked, before adding, "but there is an unfortunate word in the watch-making industry for if something is in a very poor state. We call it 'derelict', and this is fairly derelict. How did it get in this condition?"
The guest, an unnamed man, then told him, "It unfortunately went through my lawnmower. We had a burglary, and they must have dropped that in the grass as they left. My wife found it later in the compost bin."
"I bought it in either late 1965 or early 1966, and it was second-hand at the time."

But despite the damage to the timepiece, Price informed the couple the watch would be worth thousands once it was repaired.
"Assuming you can get these pieces in good condition with that strap, I see it being retailable for towards £18-20,000 [$NZ38,000]," he explained. "And the strap on its own is worth £3,000 [NZ$6,300]."
"I'm amazed, I'm excited," the watch's owner gushed. "I mean, I came along here convinced it was basically beyond repair - a bit of rubbish, really. My son will be excited because he wants to inherit it."
Fans of the show were left shocked by the watch's value, with one writing on Twitter, "Just the Omega metal watch strap > £3k, flippity jibbins [sic]."
Another marvelled, "I've been down in the garden so I might have missed it, but [that's a] ridiculous price for a broken watch."
Earlier this year another guest was left in tears after finding out how much a diamond brooch that has been in her family for generations was worth.
This article was first published by the NZ Herald and is republished here with permission. 
Take your Radio, Podcasts and Music with you