Celebrities in self-isolation band together to sing sweet cover of John Lennon's 'Imagine'
Publish Date

Friday, 20 March 2020, 12:40PM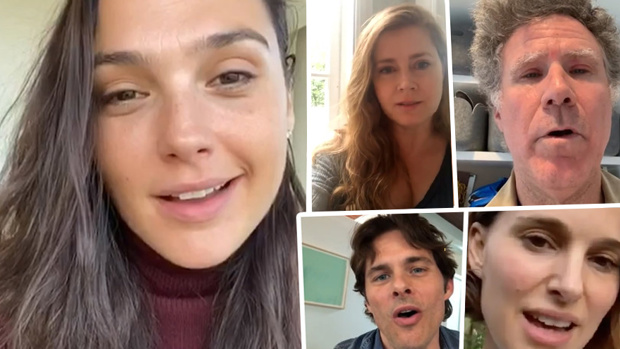 Just like her character Wonder Woman, Gal Gadot is here to save the day and keep spirits high.
As billions of around the world are self-isolating to help stop the spread of the coronavirus, Gadot called upon other celebrities to sing a sweet cover of the classic John Lennon song 'Imagine.'
"We are in this together, we will get through it together," she wrote alongside a video of the star-studded rendition. "Let's imagine together. Sing with us."
Before launching into the song, Gadot can be heard saying: "Hi, guys. Day six in self-quarantine. And I gotta say, these past few days got me feeling a bit philosophical.
"This virus has affected the entire world. Everyone. Doesn't matter who you are, where you're from. We're all this together."
Celebrities featuring in the clip are Kristen Wiig, Pedro Pascal, Lynda Carter, Sarah Silverman, Sia, Jimmy Fallon, Jamie Dornan, Labrinth, James Marsden, Eddie Benjamin, Zoe Kravitz, Amy Adams, Leslie Odom Jr, Chris O'Dowd, Will Ferrell, Mark Ruffalo, Norah Jones, Ashley Benson, Kaia Gerber, Cara Delevingne, Annie Mumolo, and Maya Rudolph.
READ MORE:
• Tom Hanks gives health update after testing positive for coronavirus
• Céline Dion, Cher, Billy Joel and Michael Bublé postpone concerts amidst coronavirus outbreak
However, unfortunately, the 34-year-old's attempt to cheer up Coronavirus isolationists backfired.
Social media users slammed the actress as to why the celebrities couldn't donate money instead.
"Imagine no possessions,' sung by some of the wealthiest people in the world," scoffed one Instagram user.
"BOO, donate if you really care about the world," wrote another.
"No one wants to see #GalGadot singing with the rich as I understand the intentions were probably well. We want to see the people who have power and wealth give back in times of need as a lot of us can only do the small things," a third added.
Take your Radio, Podcasts and Music with you