Country music star Luke Combs stuns Spark Arena: Fast Car cover, All Blacks and tales of New Zealand
Publish Date

Thursday, 10 August 2023, 12:25PM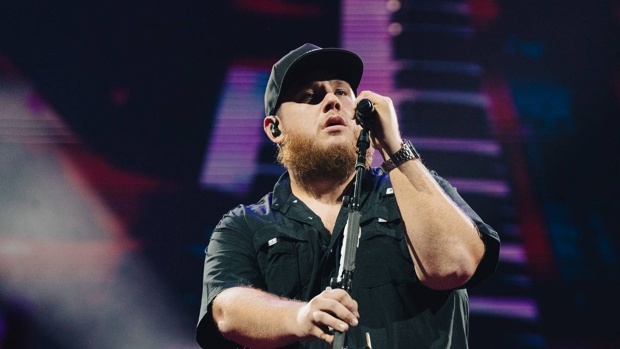 REVIEW
His one and only New Zealand show sold out in mere minutes, with fans left fighting for a spot in Auckland's Spark Arena to see country music's biggest name.
And when Luke Combs took to the stage last night, with an iconic beer cup kick and the roars erupted, he defined unprecedented demand.
The Luke Combs effect is truly something to behold. In premise, the singer is refreshingly ordinary – a laid-back guy, donning a silver fern embroidered black cap and signature Columbia shirt, just having a good time.
Yet the response to the man was more impressive than many of the world's biggest acts I have witnessed take on Aotearoa's biggest arenas.
And in between the insane vocals and mild manners lays the magic - Combs and his band are nothing short of a masterclass in likeability.
Sign up to Coast's newsletter for exclusive prizes and to keep up to date with the latest.
On Wednesday night they were just a group of insanely talented guys, having a good time and you couldn't wipe the smile off of Combs' face.
Opening acts 16-year-old Australian Lane Pitman and American megastar Cody Johnson - who himself sells out arenas - were welcomed with roars and thanks for their leap of faith in coming to a country that's still learning to embrace its country roots.
While the crowd packed in early, clearly keen to cash in on the stellar opening acts, make no mistake that this crowd was here for Combs.
Opening with Lovin' on You fans were welcomed to scenes that some years ago would have seemed impossible in Auckland - country music fans as far as the eye could see. Old, young, and the majority, really really cool.
Speaking to the crowd Combs confessed to heading to our shores early to nab a seat at an All Blacks game – something he discussed his desire to do in a 2022 interview with the Herald - as well as adventuring in our great outdoors.

"New Zealand huh …. well damn," he remarked as he soaked in the sheer excitement from fans.
"I'll tell you it's an honour to be here in your amazing country. I've been here about four days now. Shot a red stag and been to an All Blacks game. I'm really having a good time," the hitmaker confessed.
Combs rubbed shoulders with the All Blacks in the weekend following their win against the Wallabies, and some All Blacks were at his concert, showing their support right back. A host of players, including Dane Coles and Dalton Papalii were spotted singing their hearts out to track after track, knowing every word without fail.
The CMA multi-award winner admitted that he wasn't sure what he was getting himself in for when he added New Zealand to his tour, but that he was glad he did.
"I had no idea what to expect on this trip and want to thank you for spending your hard-earned money to be with me," he said to applause.
Smashing out his biggest hits Beautiful Crazy, Hurricane, Forever After All and Tracy Chapman's Fast Car, the audience was wrapped around Combs' finger and as the show went on it became abundantly clear that New Zealand was like an old friend to the singer.
"I never imagined in a million years that my life would be where it is now. Now here we are in Auckland, New Zealand," he declared.
1,2 Many then blasted and Combs proceeded to do a shoey from a cowboy boot, fitting of celebrating the start of his Australasian leg of the World Tour.
Fan favourites When It Rains It Pours and Beer Never Broke My Heart followed before Combs expressed his delight at the Kiwi crowd.
"The beautiful country of New Zealand has not let me down tonight," he shouted before heading off stage.
But New Zealand wasn't ready to let him go yet and chants of "Waisake Naholo" erupted until a glimpse could be seen again of Combs and his keyboard player.
Finishing with The Kind of Love We Make, Combs grabbed a New Zealand flag from an audience member, signing it and then holding it to the sky proudly.
"I'll never forget tonight, New Zealand," he declared, before gifting one final unplanned song to the masses.
Given the sheer demand for tickets, had the Women's Fifa World Cup not been hosted at our biggest venues currently, it's likely the star and ex-rugby player would have sold out the home of rugby, Eden Park, or literally any venue of his choosing.
But there's always next time - and given the sheer energy and momentum of country and the Combs movement here in New Zealand, there will without a doubt be a next time.
- Jenni Mortimer
Our Social Media Manager Bre also went along and experienced almost every emotion one could at a concert. From laughter to tears, joy to grief... she had them all.

This article was first published in the NZ Herald by Jenni Mortimer and is republished here with permission. 
Jenni Mortimer is the New Zealand Herald's lifestyle and entertainment editor. Jenni started at the Herald in 2017. She's also the host of The Herald's parenting podcast One Day You'll Thank Me, mum to Knox and The Herald's official country music aficionado.
Take your Radio, Podcasts and Music with you