Devoted dad goes viral after booking himself onto EVERY flight his daughter was working on over Christmas Day
Publish Date

Monday, 23 December 2019, 2:38PM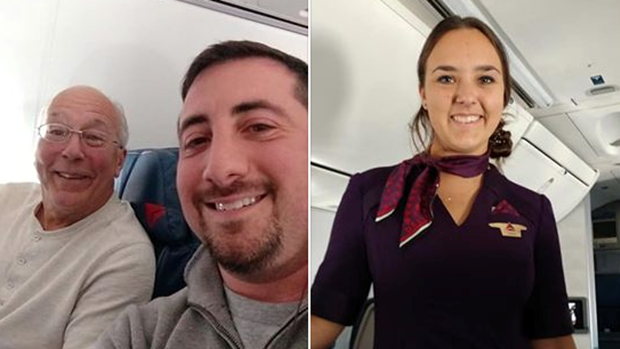 Christmas 'tis the season for spending quality time with family and friends.
But what happens if one of your loved ones has to work on Christmas?
This was the predicament one father found himself in when his daughter - a Delta Airlines flight attendant - was rostered on to work six flights over Christmas Eve and Christmas Day last year.
Adamant his daughter wouldn't have to miss out on family time, Hal Vaughan - who we've since dubbed 'the father of the year' - took it upon himself to book a seat on every flight she was working on.
Seated next to Mike Levy on a Christmas Eve flight from Fort Myers to Detroit, his fellow passenger couldn't resist sharing Vaughan's heartwarming story on Facebook.
"I had the pleasure of sitting next to Hal on my flight back home," Levy wrote.
"His daughter Pierce was our flight attendant who had to work over Christmas."
READ MORE:
• Cadbury is releasing a "Christmas Cottage Kit" made entirely of milk chocolate!
• A new study claims people who put up their Christmas decorations earlier are happier!
"Hal decided he would spend the holiday with her. So, he is flying on each of her flights today and tomorrow around the country to spend time with his daughter for Christmas."
"What a fantastic father! Wish you both a very Merry Christmas!"
The post, of course, went viral, receiving more than 42,000 shares and over 214,000 likes.
Take your Radio, Podcasts and Music with you