Disney have revealed 30 locations that inspired some of their most famous stories
Publish Date

Friday, 15 September 2023, 1:28PM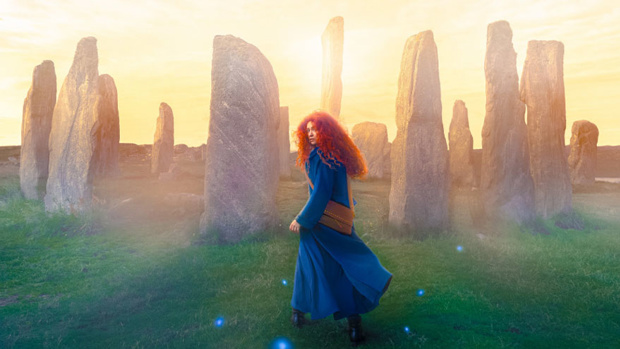 To mark The Walt Disney Company's 100th anniversary, the company have revealed 30 locations that have inspired some of their most famous stories over the year.
Also to mark their anniversary, the company have recreated famous scenes with exclusive photos, including St. Paul's Cathedral, which features several times in 'Mary Poppins', the Calanais Standing Stones which inspired 'Brave', and Great Fosters, whose topiary maze is said to have inspired a particularly memorable scene from 'Alice in Wonderland'.

The list of landmarks incorporates 13 countries across Europe, Africa and the Middle East.
Sign up to Coast's newsletter for exclusive prizes and to keep up to date with the latest.
Rebecca Cline, Director of the Walt Disney Archives, said: "Towards the end of his life, Walt Disney was honoured as the 'Showman of the World'.

"It was a very apt honour, as he was fascinated and inspired by everything he experienced and saw, no matter where it was.

"As he once said himself, 'Always, as you travel, assimilate the sounds and sights of the world.'

"And we have all benefited from his love of cultures the world over."

Research found that almost half of Brits would love to use a Disney location for a once-in-a-lifetime moment, with 41% of 16-44-year-olds surveyed admitting they would select their dream wedding destination based on castles and locations that inspired Disney's stories.

Two in five Brits were unaware many Disney films and park attractions were based on real locations, with 75% admitting they didn't know the Sleeping Beauty Castle at California's Disneyland was based on Neuschwanstein Castle in Germany, and less than 10% realising Thor's home in 'Avengers: Endgame' was St. Abbs Village in Berwickshire, Scotland.


Disney 100: The Landmarks:
UK and Ireland:

1. 'Cruella' (2021) / Liberty, London, England
2. 'One Hundred and One Dalmatians' (1961)/ Regent's Park, London, England
3. 'Peter Pan' (1953) / Big Ben, London, England
4. 'Mary Poppins' (1964)/ St Paul's Cathedral, London, England
5. 'Star Wars: The Force Awakens' (2015) / Skellig Michael, Ireland
6. 'Avengers: Endgame' (2019) / St. Abbs Village, Berwickshire, Scotland
7. 'Winnie the Pooh' (2011)/ Ashdown Forest (Hundred Acre Wood), East Sussex, England
8. 'Brave' (2012)/ Calanais Standing Stones, Stornoway, Scotland
9. 'Alice in Wonderland' (1951)/ Great Fosters, UK

France:

10. 'The Hunchback of Notre Dame' (1996) /Notre Dame Cathedral
11. 'Ratatouille' (2007) /Le Train Bleu
12.'Tangled' (2010) / Mont Saint Michel
13. 'Beauty and the Beast' (1991) / Château de Chambord
14. 'Sleeping Beauty' (1959) / Château de Saumur

Spain:

15. 'Snow White and the Seven Dwarfs' (1937) / Alcázar de Segovia

Croatia:

16. 'The Little Mermaid' (1989)/ Dubrovnik
Africa:

17. 'Black Panther' (2018) / Blyde River Canyon Nature Reserve, South Africa
18. 'The Lion King' (1994) / Masai Mara, Kenya

Germany:

19. 'Snow White and the Seven Dwarfs' (1937) / The Black Forest
20. 'Pinocchio' (1940)/ Rothenburg ob der Tauber
21. Sleeping Beauty Castle at Disneyland, California / Neuschwanstein Castle
22. 'Captain America: Civil War' (2016) / Leipzig/ Halle Airport

Hungary:

23. 'Black Widow' (2021) / Budapest

Iceland:

24. 'Rogue One: A Star Wars Story' (2016) / Reynisbara Black Sand Beach

Italy:

25. 'Avengers: Age of Ultron' (2015) / Forte di Bard
26. 'Luca' (2021) / Cinque Terre
27. 'Indiana Jones and the Dial of Destiny' (2023) / Ear of Dionysius, Sicily

Greece:

28. 'Hercules' (1997)/ Mount Olympus

Norway:

29. 'Frozen' (2013) /Akershus Fortress, Oslo

Jordan:

30. 'Aladdin' (2019)/ Wadi Rum
- Written by Bang! Showbiz and republished here with permission

Take your Radio, Podcasts and Music with you