Forget capsule coffee machines! We want this capsule cocktail machine ...
Publish Date

Sunday, 12 December 2021, 10:10AM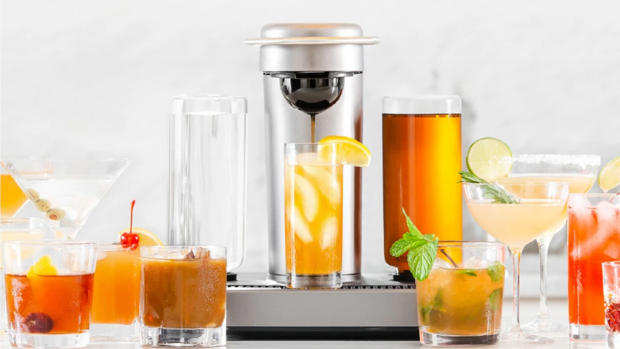 Move over Nespresso – there's a new type of capsule machine in town!
Allow us to introduce you to Bartesian cocktail machines ...
While it's always fun to mix the perfect cocktail from scratch yourself, sometimes you just want a quality drink at the push of a button - and that is exactly what Bartesian does.
About the size of a KitchenAid stand mixer, the machine promises "premium cocktails on-demand" and makes them using a similar technology to the popular pod coffee makers where you pop a capsule into a machine, press "go" and have a perfectly mixed drink within one minute.
Nothing could be easier to use.
You keep a reservoir of water and five spirits - gin, vodka, rum, whiskey/bourbon or tequila - in the machine.
The machine reads the barcode on each highly concentrated cocktail capsule, so even if you aren't really sure what sort of liquor goes into, say, a Mai Thai, the Bartesian makes it a fool-proof process.
The Bartesian also allows you to choose from four levels of cocktail strength: mocktail, light, medium, and strong.
READ MORE:
• Kiwi mum shares her delicious Caramilk chunk cookies recipe
• Eight classic Kiwi snacks they should bring back to the shelves
It then guides you through the appropriate glass or shaker to catch and serve the drink in.
A flow rate sensor measures the correct amount of water and alcohol to bring your cocktail to life, and voilà: Your robot bartending machine just made you a perfectly mixed cocktail.
And don't worry, the single-serving pods are recyclable.
Santa, can we please have one for Christmas?
Take your Radio, Podcasts and Music with you