Giant light therapy sculpture lands on Mount Maunganui Beach
Publish Date

Friday, 4 August 2023, 1:00PM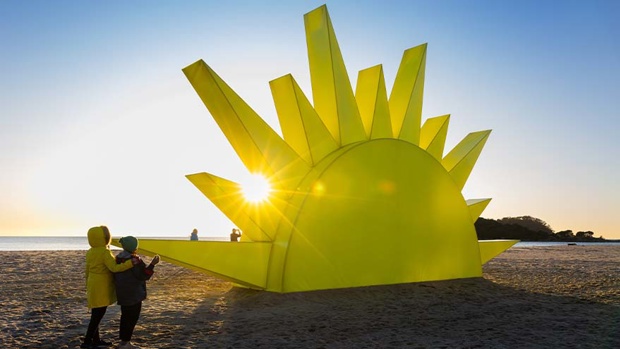 After a start to the year that saw sunshine hours hit record lows in regions across New Zealand, the sun is set to shine this wintery weekend – no matter the weather - as a giant light therapy sun sculpture lands on Mount Maunganui Beach.
Standing at eight metres tall and measuring 18 metres wide, the Second Sun is illuminated by over 8,000 bulbs which emit a light that has been designed to mimic the sun to help produce mood-lifting effects. 
 Sign up for Coast's newsletter for exclusive prizes and to keep updated with the latest.
The sculpture is the latest in a series of light installations Mercury has supported across the country this winter.
Light therapy lamps are a commonly used alternative treatment for supporting feelings of low mood and reduced energy in winter.
In regions with limited winter sun, research has shown that daily exposure to 30 minutes of sun-mimicking bright light, particularly in the morning, can have a positive impact on a person's mood.

Bay of Plenty-based Mercury General Manager Customer Operations Fiona Smith says: "With the amount of rainy days we had during summer, especially in the North Island, I think everyone would agree that it feels like we missed out on that sunny get out the BBQ and jandals type Kiwi summer we all remember and love.
"Like many other New Zealanders I would relish in the ability to turn on the sun at the flick of a switch - and the Second Sun sculpture is just that.
We wanted to create a unique wonderful way of bringing people together and spreading a bit of inspiration and happiness in communities like Mount Maunganui and the wider Bay which we are proud to support."
So if you're wanting to catch some sunshine and test out the Second Sun's feel-good benefits, you can catch the sculpture on Mount Maunganui Beach from Friday 4 August - Sunday 6 August and in Dunedin's Octagon from Friday 11 August - 13 August! 

Take your Radio, Podcasts and Music with you