How To Dad and Suzanne Paul team up for hilarious new cooking show 'How To Dinner'
Publish Date

Wednesday, 29 April 2020, 11:18AM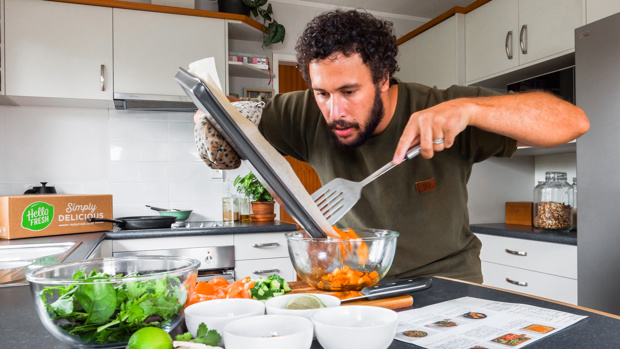 Social media star Jordan Watson aka "How To Dad" has joined forces with infomercial queen Suzanne Paul to help provide some lighthearted entertainment for Kiwis spending more time in the kitchen.
The father-of-three, who has built up a huge following online with his hilarious parenting and lifestyle tips, has launched the web series 'How To Dinner' and has called in Suzanne to help improve his infomercial game.
Filmed during lockdown, the mini-series will feature a slew of other Kiwi stars, coming together to cook easy-to-prepare meals.
Jordan said he hopes the series helps promote home cooking: "I hope that it will open people's eyes to just how simple making good, tasty dinners can be and that it helps people channel their inner home cook."
And he noted Paul had plenty of tips to share and a unique presenting style.
"Suzanne is all about the smile. It's hard for a guy like me as I'm usually pretty dead-pan. I don't know where she gets her energy from but I want a fresh batch of it delivered to my door. She is an absolute pro and so funny, a Kiwi icon to this day," he said.
Kiwis can watch the series on How to Dad and Suzanne Paul's social media accounts.
Take your Radio, Podcasts and Music with you