Kiwi couple goes viral with powerful tribute to bride's cancer-stricken mother at their wedding
Publish Date

Tuesday, 1 December 2020, 11:54AM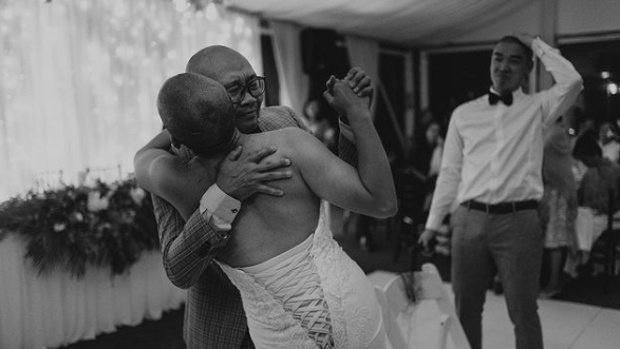 Every parent dreams of seeing the day their child walks down the aisle and marries their true love.
However, for 20-year-old Jony Lee, her mother was unsure if she would see her daughter's big day.
Two years ago Jony's mother, Luna Macapagal, was diagnosed with ovarian cancer and her health has been up and down since.
After asking Luna for her permission, 20-year-old Alistair proposed to Jony on October 21 at Auckland's Botanical Gardens.
The pair married exactly one month later at Alley Estate on November 21.
But it's what happened at their wedding reception, that has seen the couple go viral.
Much to the surprise of their guests, the newlyweds both shaved their heads in honour of Luna after their first dance.
Photo / Songbirds Photography
The powerful moment - which was Alistair's idea - was captured in stunning photos by photographers Pia and Anaru Church of Songbirds Photography, who shared the snaps on Instagram.
"How many emotion can you feel in one day? Pure joy, deep love, pain, sadness, grief, gratitude," the wedding photographers wrote alongside the series of photos of the bride and groom taking turns shaving each other's heads after tying the knot.
"Jony's warrior of a mama is fighting cancer and her one desire was to see these two soulmates get married," they continued.
"They surprised everyone when, after their first dance, shaved each other heads in honour of mum. It was one of the most powerful moments we've witnessed and are still in awe at how beautiful these two, their families, and this was was. Every single emotion was welcomed by this family to dine together in the table of life and family. It was a powerful scene we won't forget."
Photo / Songbirds Photography
Following the touching tribute, guests were given the opportunity to donate money which would then be given to the Cancer Society.
On the wedding night, the coupled raised $1,400 for the Cancer society.
Days later guests continued to donate, bring the amount raised to $2,000.
Jony has also now created a Givealittle page so others can donate to the charity which personally helped Luna during her treatment.
And, of course, Luna is "over the moon" that she was able to see both her daughter walk down the aisle.
How incredible is that?!
Take your Radio, Podcasts and Music with you