Mini Anzac Biscuit Caramel Tarts with Chocolate Drizzle
Publish Date

Friday, 4 August 2023, 1:36PM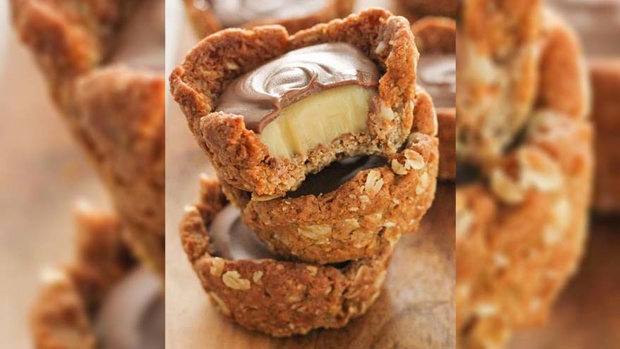 These adorable bite-sized tarts are the perfect combination of crunchy, buttery Anzac biscuit bases filled with luscious caramel and topped with a tempting chocolate drizzle.
The best part? They are made in a muffin tin, making them easy to prepare and even easier to share! Thanks to Ange for making us some and sending us the recipe she uses.
Whether you're hosting a gathering or simply treating yourself, these Mini Anzac Biscuit Caramel Tarts with Chocolate Drizzle will undoubtedly satisfy your sweet cravings and leave everyone wanting more. So, let's get baking and savour the deliciousness!
Ingredients:
1 cup Edmonds standard grade flour
2/3 cup Chelsea white sugar
1 1/3 cups finely desiccated coconut
1 1/2 cups rolled oats
100g butter
2 Tbsp Chelsea golden syrup
1 tsp Edmonds baking soda
4 Tbsp boiling water
Method:
Preheat the oven to 180˚C.
Mix together flour, sugar, coconut and rolled oats.
Melt butter and golden syrup. Dissolve baking soda in the boiling water and add butter and golden syrup. Stir the butter mixture into the dry ingredients.
Place spoonfuls of mixture into greased muffin tins. Bake for about 15 minutes or until golden.
Once you take them out of the oven, dent a hole in the middle to fill later - Ange uses a pestle from a mortar and pestle! Leave on the tray for five minutes then transfer to a wire rack.
Ingredients:
400g Can Sweetened Condensed Milk
2 Tbsp Golden Syrup
60 grams Butter, melted
Method:
In a small saucepan or pot combine condensed milk, butter & golden syrup.
Stir over low to medium heat for 6-8 minutes, until the mixture boils, thickens and changes to a slightly darker colour - it may catch so take care to stir constantly.
Final Assembling:
Spoon the caramel filling into the cooled biscuit cases. Then, you can either eat as is or drizzle some chocolate over the top! 
Ange recommends 50% Whitakers dark to counter the sweetness of the caramel! YUM
Sign up to Coast's newsletter for exclusive prizes and to keep up to date with the latest.
 Let us know your favourite recipes by messaging us on Facebook or emailing us HERE. 

Take your Radio, Podcasts and Music with you