Mum left completely shocked after school sends son's 'unhealthy' lunch box home
Publish Date

Friday, 5 July 2019, 2:32PM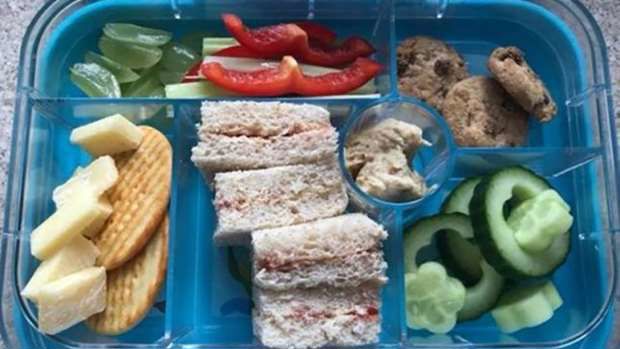 These days, parents are trying to be more health conscious for their children than ever before.
But apparently, one mother's commendable effort to provide a balanced diet for her son wasn't enough, after the lunch she had packed was deemed "unhealthy" by his school.
The lunch in question contained a mixture of cucumbers, celery, capsicum, hummus, grapes, sandwiches and cheese and crackers.
Photo / Facebook
But it seems the culprits were the three mini chocolate chip cookies she had included, apparently, they were too "unhealthy" to have in her son's school lunch.
Mother, Laura Lee, shared a photo of the lunchbox on Facebook – in a thread where teachers were sharing the worst meals brought into school by their students - along with the caption: "I thought it was pretty balanced – evidently not."
Other mums were quick to support Laura, with one woman replying with her own story: "That looks great and well balanced, my son's drink got sent home because it was fizzy … it was sparkling water."