Mum shares her super simple hold hack which puts crying babies to sleep in seconds "every time"
Publish Date

Wednesday, 11 May 2022, 5:11PM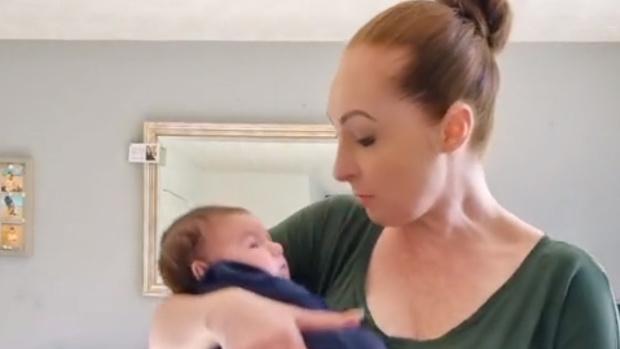 One mum is going viral after she shared her simply technique to get tricky babies to sleep within seconds - saying it works every time.
Taking to social media, Becky Wilko shared a video of her and her newborn, explaining her baby had been crying for hours and was refusing to settle and go to sleep.
She explained he has colic which is when your baby has frequent, prolonged and intense crying or fussiness despite being healthy.
But she has since discovered a particular hold that puts him to sleep in minutes.
After videoing her son crying and being rather unsettled, she places him in the "tiger in the tree" hold and in seconds he calms right down.
"OK, so I've held him like this before not knowing what it was," Becky said.
"An hour later he's fast asleep!"
READ MORE:
• Genius life hack to remove orange stains from your favourite Tupperware container
• Dyson issues warning after woman's vacuum cleaning "hack" goes viral
In the clip, instead of cradling her son, she flips him over so his stomach is resting on her arm.
Other parents soon began commenting saying they wish they knew about the hold earlier.
Unsurprisingly, her video has clocked more than 440,000 views on TikTok.
Have you tried this hold before?
Take your Radio, Podcasts and Music with you