New research has found the pavlova is NOT from New Zealand or Australia
Publish Date

Tuesday, 11 October 2022, 4:49PM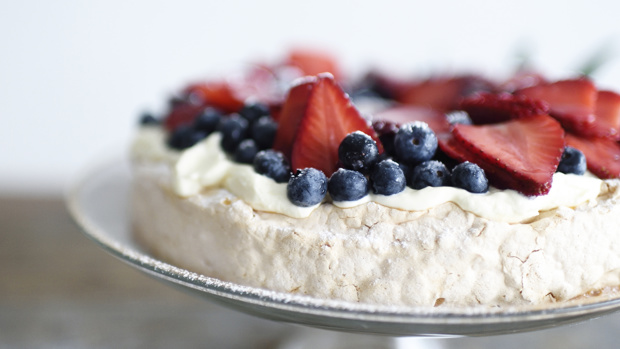 For as long as we can remember New Zealand and Australia have been locked in a controversial culinary battle over the origins of pavlova. 
But it seems the meringue-based dessert may have originated entirely elsewhere.
Thanks to new research, the mystery case over the origins of the beloved treat has been cracked.
Food historians have claimed the dessert was named after Russian ballerina Anna Pavlova, who first toured both countries in 1926.
New Zealanders often cite the story of an unnamed chef at a Wellington hotel, who is said to have invented the dessert in her honour.
While Australians believe chef Herbert 'Bert' Sachse is said to have created the pavlova at Perth's Esplanade Hotel in 1935.
However, according to New Zealander Dr Andrew Paul Wood and Australian Annabelle Utrecht, the origin of the sweet dessert is actually Germany.
The duo met when they debated the pavlova's origins on a mutual friend's Facebook post. Both went away determined to prove the other wrong.
But after they started digging deeper, they were surprised to find that in the 18th Century, large meringue constructions incorporating cream and fruit elements were found in aristocratic kitchens across German-speaking lands.
By 1860 it could also be found in Great Britain, Russia and North America.
Utrecht said recipes for shaum - which means 'foam cake' in German - arrived in South Australia in the lead-up to World War Two, when there was a large influx of German immigrants.
And while the new findings may come as a shock to many, Dr Wood said the two countries have been "lucky to become the guardians of the international dish and to have preserved it so well."
"It doesn't matter what we say, the pav is so built into the psyche of the two nations that you can't remove it and of course you wouldn't want to," he said.
"No one has embraced the pavlova like Australia or New Zealand. Both countries have different approaches, I think the Australian meringue is crunchier and the classic topping is cream and passionfruit. The New Zealand one is more marshmallowy inside with cream and slices of kiwifruit."
Take your Radio, Podcasts and Music with you