New Zealand's best pie for 2019 has just been revealed ...
Publish Date

Tuesday, 30 July 2019, 4:49PM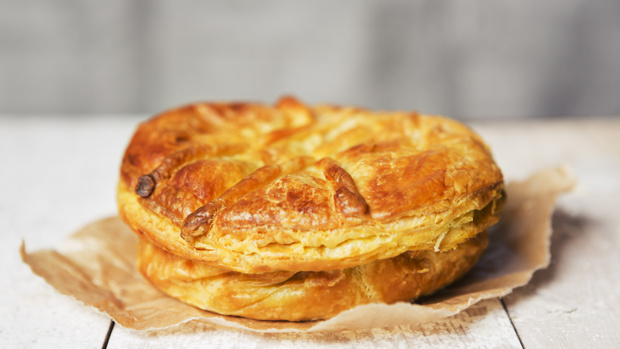 Us Kiwis love our pies!
Absolutely nothing beats tucking into a rich pie, loaded with meat, vegetables and gravy.
So, of course, we're always on the hunt for the tastiest morsels.
And now the location of where to find the best pie in New Zealand has been revealed ...
The king of New Zealand pie makers, Tauranga's Patrick Lam, has won his seventh Bakels New Zealand Supreme Pie Award.
With this, he is Bakels NZ most awarded baker, clutching his crown in a one-point victory over his opponents with a stunning mince and cheese pie.
On July 25, the judges, including celebrity chef judge Gareth Stewart, began the task at dawn of finding a winner from 5326 pies entered by 553 bakers. It took nearly nine hours.
The Award winners were announced tonight.
READ MORE:
• Gordon Ramsay shares his recipe for the perfect shepherd's pie
• Americans sparks outrage after claiming the way we eat pies is wrong

While there have been four previous Mince & Cheese Supreme winners (2001, 2002, 2005 and 2013) since the competition began in 1996, entry numbers in this category have steadily grown as New Zealanders declared it their favourite pie.
Bakels NZ managing director Brent Kersel says: "The Supreme pie was absolute perfection. The pastry was golden, with perfect lamination, flaky, and a delight to bite into. The filling though surprised us. It was like the cheese had been swirled through the mince and the way it blended in your mouth as a result was exceptional, delicious.
"Mince and cheese is my favourite pie, and I'd go so far as to say Patrick's was the best I've ever tasted."
The full list of winners are:
MINCE & GRAVY
Gold Award
Oliver's Bakehouse, Auckland
Silver Award
Richoux Patisserie, Auckland
Bronze Award
Fresh Bun Cafe, Tuakau
Highly Commended
Bakers Oven, Whangaparaoa
POTATO TOPPED
Gold Award
Euro Patisserie, Auckland
Silver Award
Dairy Flat Bakery, Albany
Bronze Award
Copenhagen Bakery, Christchurch
Highly Commended
Bakers Oven, Whangaparaoa
STEAK & CHEESE
Gold Award
Nada Bakery, Wellington
Silver Award
Dairy Flat Bakery, Albany
Bronze Award
Fast & Fresh Bakery, Taupo
Highly Commended
Bakery Bobs Bakery Cafe, Tauranga
CHICKEN & VEGETABLE
Gold Award
Kai Pai Wholesale, Wanaka
Silver Award
Richoux Patisserie, Auckland
Bronze Award
Goldstar Patricks Pies, Tauranga
Highly Commended
My Bakery Kelston, Auckland
CAFÉ BOUTIQUE
Gold Award
Poached Rhubarb and Blueberry
Original Foods, Christchurch
Silver Award
Prime Hereford Beef Cheeks, Mushroom, aged Cheddar, Fenugreek and Garden Herbs.
The Whistling Frog, Owaka
Bronze Award
Chicken Porcini in cream sauce
Red Kitchen, Te Awamutu
Highly Commended
Mutton Shanks
Rangiriri Pies, Rangiriri
GOURMET MEAT
Gold Award
Moroccan Lamb Pie
Orewa Bakery, Orewa
Silver Award
Chicken & Bacon in a Cream Sauce
Kai Pai Wholesale, Wanaka
Bronze Award
Slow Cooked Pork Belly
Nada Bakery, Wellington
Highly Commended
Lamb, Kumara, Bacon & Camembert
Mairangi Bay Bakery, Auckland
TRUCKIE & TRADIE (STEAK & GRAVY)
Gold Award
Euro Patisserie, Auckland
Silver Award
Fast & Fresh Bakery, Taupo
Bronze Award
Crown Bakery, Pukekohe
Highly Commended
Julia's Bakery, Auckland
BACON & EGG
Gold Award
Goldstar Patricks Pies, Tauranga
Silver Award
Waihi Bakery, Waihi
Bronze Award
Richoux Patisserie, Auckland
Highly Commended
Pak n Save Wairau, Glenfield
MINCE & CHEESE
Gold Award
Goldstar Patricks Pies, Tauranga
Silver Award
Bakery Bobs Bakery Cafe, Tauranga
Bronze Award
Summer Bakery, Auckland
Highly Commended
Dairy Flat Bakery, Albany
GOURMET FRUIT
Gold Award
Blackforest
Ten O'Clock Cookie Bakery Cafe, Masterton
Silver Award
Blueberry, Apple & Peach
Corner Bakery, Auckland
Bronze Award
Fresh Lemon Meringue
Patrick's on Lake Road, Rotorua
Highly Commended
Mix Berries and Apple
Dairy Flat Bakery, Albany
VEGETARIAN
Gold Award
Broccoli, Cauliflower, Pumpkin, Carrot, Spinach
Euro Patisserie, Auckland
Silver Award
Vege BBQ Cheese Burger, Beyond Meat Patty
Butchart's Home Cookery, Whanganui
Bronze Award
Stir-Fried Veg in a Cream Cheese Sauce
Goldstar Patricks Pies, Tauranga
Highly Commended
White Sauce with Pumpkin & Carrot
Kai Pai Wholesale, Wanaka
COMMERCIAL WHOLESALE – MINCE & CHEESE
Gold Award
Oxford Pies, Hamilton
Silver Award
Dad's Pies, Auckland
Bronze Award
Couplands Bakeries, Christchurch
Highly Commended
Kai Pai Wholesale, Wanaka
SUPREME
Mince & Cheese
Patrick Lam
Goldstar Patricks Pies, Tauranga
Take your Radio, Podcasts and Music with you