New Zealand's best toasted sandwich has been crowned!
Publish Date

Friday, 29 July 2022, 5:15PM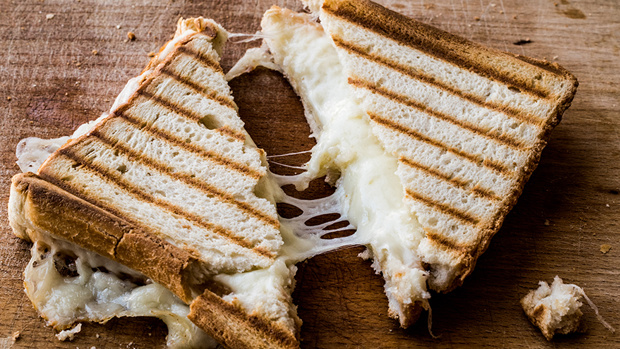 Let's be honest ... there is nothing more delightful than a perfectly made golden and crunchy toastie.
Are we right?!
But just where can you find the tastiest toasted sandwich in New Zealand?
The judges in this year's Great NZ Toastie Takeover have crowned the little town of Okere Falls, just outside of Rotorua, as the home of New Zealand's best toastie.
Beating out 180 other eateries across the country, wedding photographer-turned-chef Rich Johns from Okere Falls Store and Craft Beer Garden earned "a perfect score" for his Get Smoked, Pickled + Toasted sandwich.
John's winning sandwich is filled with house-smoked, beer-brined brisket, McClure's Pickles, hop-salted mozzarella, smoked cheddar, watercress and horseradish.
It's all packed into slices of Bread Asylum X Lumberjack Brewing spent grain sourdough, slathered in pickle brine sour cream and served with a beer gravy dipping bowl.
"The entry also delivered epic mouth feel and both complementary and contrasting flavours. No ingredient was superfluous, we gave it a perfect score for taste," said head judge, Kerry Tyack.
READ MORE:
• Kiwi mum shares her delicious Caramilk chunk cookies recipe
• Eight classic Kiwi snacks they should bring back to the shelves
If you can't make it to Okere Falls to try the country's ultimate toastie, you'll also find top-notch hot sandwiches being served up by these competition finalists:
AUCKLAND
· Archie Café: Pepper Pig - Hot pork, double cheese blend, McClure's Sweet & Spicy Pickles, mustard and sriracha on toasted sourdough.
· Wynyard Pavilion: Low 'n Slow - Low & slow smoked wagyu brisket, Massimo's mozzarella, McClure's Sweet & Spicy Pickles, truffle aioli and Old Yella habanero mustard.
WAIKATO / BAY OF PLENTY / COROMANDEL / ROTORUA
· The Public Office (Ngatea, Coromandel): The Smoky Pork & Pickle - Cider braised pork, smoky wood sauce, melted gouda and McClure's Sweet & Spicy Pickles, topped with crispy fried pickles.
CENTRAL NORTH ISLAND
· Toastie Ohakune (Ohakune): Owen's Missus, Who Takes No SCHMACK - Corned beef, pickled carrots, Pepper & Me 'Schmack Sauce,' McClure's Bread & Butter Pickles and four cheeses.
· Best Burgers (Havelock North): A Cluckin Patty Melt - Chicken fried Best Burgers patty, Swiss cheese, bacon & onion Jam, McClure's Bread & Butter Pickles, Best Burgers Special Sauce on house potato bread.
WELLINGTON REGION
· Brew Union (Palmerston North): Pork & Rye - Pickled pork, jalapeno, date and smoked gouda cheese sauce, American mustard mayo and McClure's Sweet & Spicy Pickles on rye bread.
· The Offering (Greytown): Beef Greytown (Our take on a classic) - Four cheese blend with Parkvale mushrooms, onion and baby spinach, thyme and parsley to form a spread, French mustard, pulled hot smoked rump beef with a chipotle BBQ Sauce, McClure's Bread & Butter Pickles, white cheese sauce, all nestled between toasted marble rye bread.
UPPER SOUTH ISLAND
· Little Nessie Café (Nelson): Toasted Reuben - Pastrami, Swiss cheese, McClure's Sweet & Spicy Pickles, sauerkraut, secret sauce.
· BEERS (Christchurch): Lamb Margera - Smoked lamb shoulder, Swiss cheese, McClure's Sweet & Spicy Pickles, kimchi and onion rings on sourdough.
LOWER SOUTH ISLAND
· Morning Magpie (Dunedin): Tickle My Pickle - Organic sourdough, McClure's Sweet & Spicy Pickles with house pickles, a big slab of Evansdale cheese, served with a dipper of tomato soup. (Also a finalist in 2021)
· High Country Salmon (Twizel): Loco Mexicano - Cold smoked salmon, McClure's Sweet & Spicy Pickles, corn salsa, avocado, cheese, spinach, cornflakes and chilli mayo, in toasted rye sourdough. Served with fries.
· Johnny Crema (Food Truck, Frankton, Queenstown): Reubie Roll - Corned beef, horseradish béchamel, McClure's Sweet & Spicy Pickles, all rolled up on a divine slice of European Bakery jumbo loaf, served with crisps.
The competition's supreme winner will be announced on July 27.
Take your Radio, Podcasts and Music with you