People are losing their minds over this genius garlic peeling hack!
Publish Date

Wednesday, 19 June 2019, 10:34AM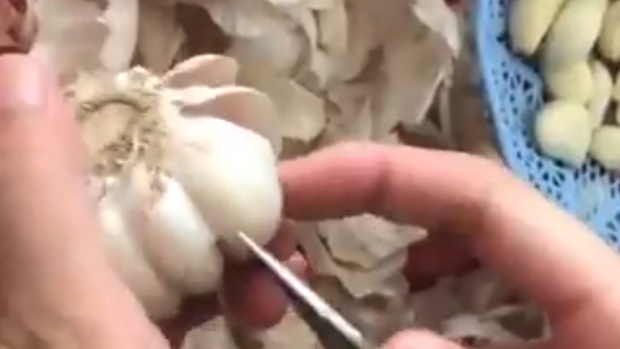 There's no denying that when it comes to cooking, removing the thin papery skin from garlic can be time-consuming and fiddly.
Professional chefs and at-home cooks swear by many different methods — from shaking garlic in a container to smashing garlic cloves on a cutting board.
But now a new video - which was posted on Twitter - has revealed the quickest and most foolproof way to peel garlic, and it doesn't involve tedious scraping or foul-smelling fingers.
This enlightening kitchen hack is super easy and will unarguably save time when it comes to preparing garlic for a meal.
The video shows someone using a knife, or a pointed blade, to stab the individual cloves from the head. They then pull out each clove quickly and easily from the bulb.
"As someone who makes a lot of Korean food, this is the best method for getting garlic peeled!" the caption read.
Social media users took to the comments to explain their minds had been "blown" by the revelation, with some calling it a "culinary moon landing".
Since it was shared two days ago, the clip has been viewed more than 19.7 million times.
Garlic is known for its numerous health benefits, with bulbs containing vitamins C, B6 and other antioxidants.
Some evidence has also suggested that garlic may be effective against cholesterol, common colds, and high blood pressure.
Take your Radio, Podcasts and Music with you