Photographer captures moment butterfly lands on dad's hand during tribute to his late daughter
Publish Date

Thursday, 4 July 2019, 1:18PM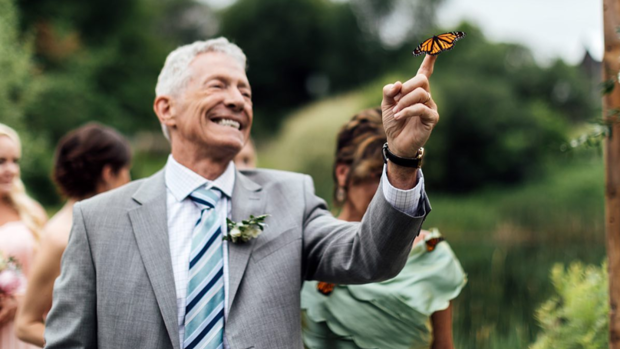 Weddings are emotional occasions in which we celebrate love and togetherness — and one photographer's incredible pictures from a recent ceremony are reminding the internet of this exact fact.
Jessica Manns was tasked with taking photos at a unique wedding in Fox Hill Farm, Pennsylvania.
Taking to social, she told her followers that it was "probably the most emotional thing" she'd ever witnessed - thanks to one little butterfly.
Groom Max Van Gorder tragically lost his sister Vanessa, who would have been 29, in a car accident at Christmas a few years ago.
When he decided to marry his now wife, Lydia, they decided to pay tribute to Vanessa during what would be a bittersweet moment by releasing orange monarch butterflies into the air as a symbol of resurrection and a representation of life.
But instead of flying away, one of the beautiful creatures perched on Vanessa's dad's finger through the whole of the ceremony.
EAD MORE:
• This heartfelt "Slow Down" video will make every mum cry just in time for Mother's Day
• Aussie mum left shocked after her son shares eerie memory of being 'in her tummy'
As Jessica explained: "This same butterfly on his finger stayed there the entire ceremony and then flew onto the bride's bouquet after the recessional ... Unreal."
The bride herself commented on the now-viral post, saying: "Thank you again Jessica Manns for capturing such a special and loving moment during our wedding. Vanessa was with us there and throughout the night."
To say there wasn't a dry eye at the wedding would be an understatement.
You can find more information about Jessica Manns Photography on her website, here.
Take your Radio, Podcasts and Music with you