Picture goes viral after using Easter eggs as a guide for childbirth
Publish Date

Friday, 12 April 2019, 1:59PM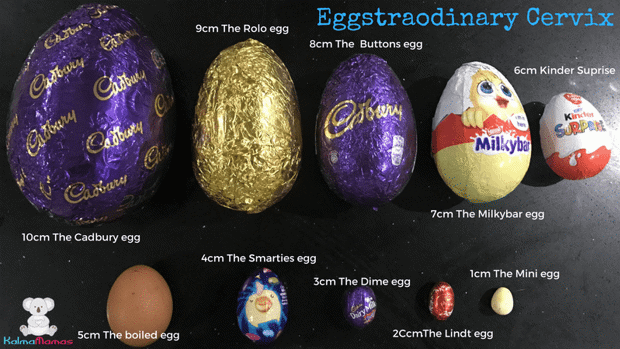 Women's bodies are truly amazing … especially when it comes to giving birth to new life.
Now with Easter right around the corner, a maternity service has demonstrated exactly how incredible they are with the help of some chocolate Easter eggs.
The "Eggstraordinary Cervix" guide created by Kalma Baby shows each dilation stage – from the 1cm Mini egg, right up to the 10cm Cadbury egg.
The image was shared to Facebook and quickly went viral with mothers pointing out that the chocolate treats should be given as a reward for reaching each stage of dilation.
However, not everyone was a fan.
One person commented that the birthing comparison had left them feeling both "traumatised and peckish", while another added that the diagram "could put [them] off Easter Eggs for life."
READ MORE:
• The most popular baby names of 2019 to date have been revealed ...
• Mums have been left horrified after a hospital's instructions for new mothers from 1968 went viral
"Well, that's Easter ruined," wrote one user.
Another added: "I don't think I'll ever look at a chocolate egg the same way again."