Queen Elizabeth shares her super easy personal recipe to make her favourite pancakes
Publish Date

Sunday, 6 March 2022, 9:33AM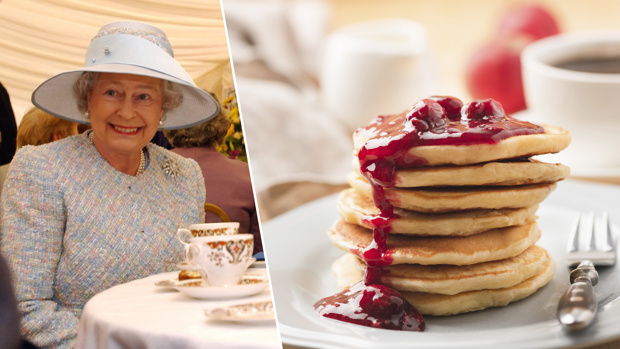 Ever wanted to eat a breakfast fit for a Queen?
Well, now you can!
Queen Elizabeth II has just shared her very own personal recipe for "Drop Scones", also known as "Scotch Pancakes," and we can't wait to try it out for ourselves.
The recipe - which was written in a letter to former US President Dwight Eisenhower when Her Majesty was just 34-years-old - has been shared online.
And while you probably think her royal pancakes are impossible to replicate, you might be surprised by just how simple they are!
"Dear Mr President," the letter reads. "Seeing a picture of you in today's newspaper, standing in front of a barbecue grilling quail, reminded me that I had never sent you the recipe of the drop scones which I promised you at Balmoral. I hope you will find them successful."
READ MORE:
• Buckingham Palace announces Princess Beatrice's nuptials have been called off
• Prince George, Princess Charlotte and Prince Louis share sweet "thank you" video to medical workers
"I have also tried using golden syrup or treacle instead of only sugar and that can be very good, too," Queen Elizabeth added.
"I think the mixture needs a great deal of beating while making, and shouldn't stand about too long before cooking."
Drop Scones or Scotch Pancakes are known for being smaller, yet thicker and fluffier than your average pancake, and all-around more royal!
Ingredients:
3 cups (400 g) all-purpose flour
2 teaspoons baking soda
3 teaspoons cream of tartar
1/4 teaspoon salt
2 eggs
1/4 cup of superfine sugar, or a heaping 1/4 cup white, granulated sugar
1 1/2 cup (350 ml) of whole milk (and maybe a little more if needed)
2 tablespoons butter, melted
Method:
Beat eggs, sugar and about half the milk together.
Add flour, and mix well together adding the remainder of milk as required.
Add the bicarbonate and cream of tartar, then fold in the melted butter.
Heat a frying or griddle pan with some melted butter in.
Pour in two or three large spoonfuls of the batter (make sure they don't touch each other).
When the batter is bubbling on top, flip over each drop scone. They are ready when each side is slightly browned.
Serve with whatever you fancy: fresh fruit, maple syrup or jam.
Take your Radio, Podcasts and Music with you