Queen's Brian May treats fans to amazing guitar solo of 'We Will Rock You'
Publish Date

Tuesday, 7 April 2020, 12:47PM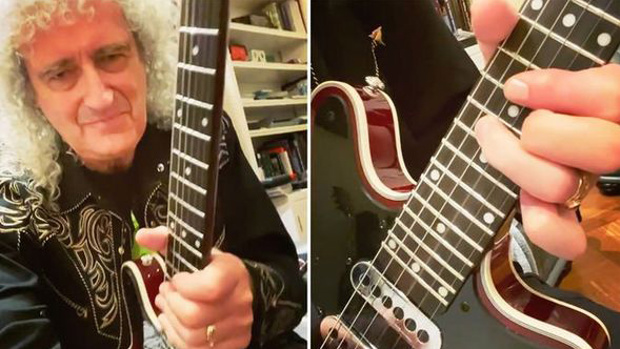 Queen fans were treated to a special micro-concert over the weekend when guitar legend Brian May performed an epic solo of the band's iconic hit 'We Will Rock You'.
Taking to Instagram, May shared an up-close clip of him playing the famous rift.
Alongside the video, the 72-year-old wrote: "We WILL Rock You!!! - again - given half a chance!!!
"This is the riff I get asked about most often. It gets that strange 'clang' to it because I'm playing a high 'A major' chord as a 'bar' on strings 2, 3 and 4, way up at the octave position, but the A-string is not fretted - it's left behind at the bottom sounding a low open 'A'.
So you get that 'interference' between the harmonics of the component notes. Especially with the amp turned up into distortion, as here. I'm not hitting the bottom 'E' at all."
The Queen guitarist continued: "When we first recorded this, I was determined to break all the rules.
"Including putting the solo at the end of the song instead of somewhere in the middle!"
He also cheekily added: "And having no drums!!!
READ MORE:
• 13-year-old stuns Queen with her cover of 'Bohemian Rhapsody' on America's Got Talent
• Brian May and Queen surprise Dunedin musician by showing up at his house to play the piano
"Funny - ironically it became a drum favourite - which makes me very happy! But the stamps and claps became a trade-mark.
"Here you can hear the guitar with NOTHING else!!! Cheers! Bri."
Earlier this week, Queen and Adam Lambert announced their UK and European tour had been postponed to 2021.
Take your Radio, Podcasts and Music with you