Rescued "unicorn" puppy with second tail on his head captures hearts around the world
Publish Date

Friday, 15 November 2019, 10:25AM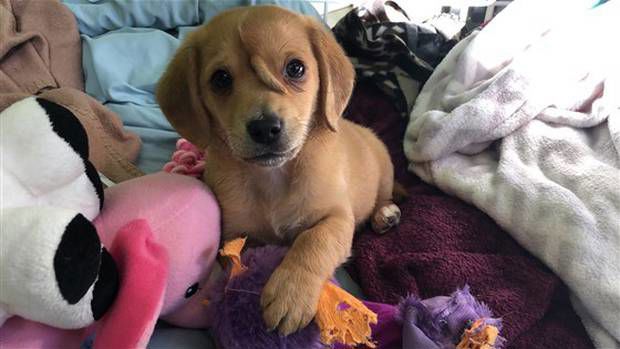 A 10-week-old puppy with a tail attached to his head is capturing hearts around the world after going viral on social media.
The young pooch - who has been nicknamed the "unicorn puppy" - was rescued after he was abandoned and was found wandering the streets of Missouri.
Staff at Mac's Mission, who rescued the abandoned pup, have named him Narwhal after the Arctic whale that has a large "tusk" from a protruding canine tooth.
The shelter said Narwhal is not yet available for adoption as he is not old enough to be released, but it doesn't look like he will have trouble finding a great home as Mac's Mission has been inundated with requests from people looking to adopt the puppy.
Rochelle Steffen, who runs Mac's Mission, said Narwhal's tail would remain on his head as it causes him no pain.
X-rays showed his secondary tail - which is about a third the size of his actual tail - was not connected to anything, had no bones and served no purpose other than to make him the "coolest puppy ever".
Steffen said: "He's literally the most magical thing you've ever seen, and so happy. Everybody wants to see him."
READ MORE:
• This dog-shaped cloud is going viral as proof that all dogs go to heaven
• Science has just proved dog owners are happier than cat owners ...
"We deal with such unique animals here that we love to let them keep their uniqueness."
She added: "It's been really good for our itty-bitty rescue to have such a rock star in our midst because all this attention is helping so many of our other dogs."
Vet Dr Brian Heuring, who examined Narwhal, said the puppy has a clean bill of health and that it was the first time he's ever seen a second tail on a dog.
"I've been a veterinarian for 16 years, and I've never seen anything like this,'' Heuring said.
"It certainly looks just like a tail, but we did X-rays, and it's all just skin."
Mac's Mission takes in dogs with all types of special needs such as deformities, clefts and trauma to prevent them from being put down.