Rest home residents wind back the clock and get lockdown tattoos
Publish Date

Tuesday, 18 August 2020, 8:54AM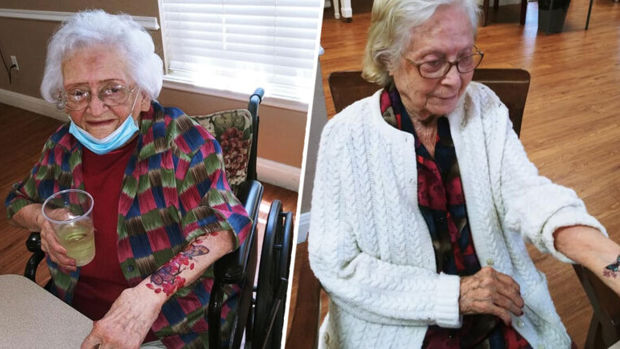 A rest home in Texas has turned themselves into a bar and tattoo parlour as a treat for residents amidst coronavirus lockdown.  
The folks at Wesley House Assisted Living, ditched the cups of tea and biscuits for something a little more interesting... Temporary tattoos and booze!
Knowing that isolation can be tedious for most, Wesley House staff decided to mix things up. 
Photos of the event were posted to Facebook, with one captioned: 'This quarantine has got us going wild! Had a few drinks and got tattoos!' 
In a statement to KSAT, staff from the facility said quarantine had been tough on its 30 residents, many of who are 'very independent'.
Wesley has offered 'happy hour' and 'disco' events in the past, with groups of residents rotated in timeslots to adhere to social distancing guidelines. 
Staff from the facility said "All of our employees help during activities, so that makes residents more open to participating as well. We are trying to keep their lives as normal as possible during this difficult time for them."
The Facebook from Wesley House detailing their activities has reached nearly 100 thousand shares.
Plenty of people have commented on the post too, with one saying "Their kids will probably ground them when they find out!".