Seal hilariously chases cat into Kiwi's lounge in Mount Maunganui
Publish Date

Friday, 19 August 2022, 4:59PM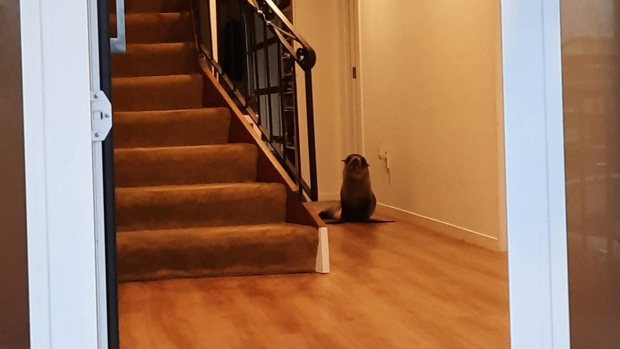 Of all the homes for a seal to enter, one managed to chase a cat into the Mount Maunganui residence of a marine biologist - who was not even around to see it.
University of Waikato researcher Phil Ross was away for work when his wife Jenn Ross experienced the "hilarious" encounter in their lounge on Wednesday.
Returning home from running errands, Jenn parked in the garage and went into the house to find a "small and very cute" New Zealand fur seal hanging out in the lounge.

Photo /Supplied
Phil said it "had a good roam around the house", visiting a spare room and even hopping up on a couch.
He suspected the family of four's cat, Coco - known to confront dogs - might have come across the seal in the front yard and "tried to take it on" - with the seal responding in kind.
Phil said to make it into the house, the seal would have had to pass through a cat flap into the garage and then through a second pet door into the house.
"It must have been on a bit of a mission," he said.
DoC was called and Jenn let the seal out the front door. It roamed the yard until a ranger arrived to collect it after a busy morning of seal-related callouts.
Phil said it was likely a juvenile on its own after being weaned from its mother. It would have come to the beach for a rest from the storm.
He said his seal visitor was released back into the harbour.
Too cute!
Take your Radio, Podcasts and Music with you