Tauranga teacher mystified after pole cemented into her driveway while she was out
Publish Date

Friday, 28 July 2023, 1:18PM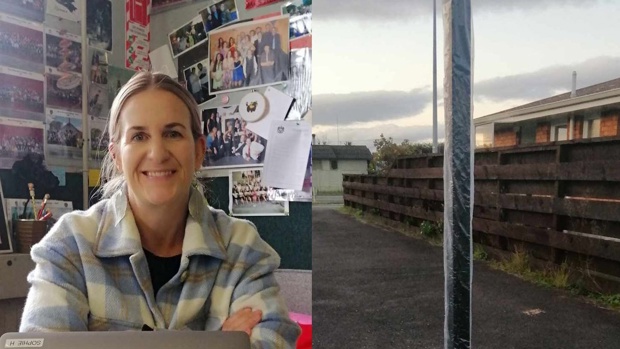 When Tauranga teacher Sophie Hucker pulled into her driveway on Tuesday, she was surprised to find it had a new addition.
At first, she thought the plastic-wrapped metal pole standing more than two metres tall was a delivery.
"I thought maybe the neighbours ordered something - maybe it's a pole for a basketball hoop," she told the Bay of Plenty Times.
The Ōtūmoetai woman pulled up to move it out of the way, but it wouldn't budge.
Sign up to Coast's newsletter for exclusive prizes and to keep up to date with the latest.
"I saw and said, 'Oh s***, it's cemented in'," she said, laughing.
The pole lined up with her garage, and her next thought was someone was trying to add a carport - but it wasn't her.
She said her Chapel St house was on a cross-lease and the other unit looked similar, leading to think her neighbour may have ordered it and an installer accidentally got the wrong house. But he was away, so she couldn't ask him immediately.
Before she left for work the next day, she left a note with her phone number on the mysterious pole. It said: "I have no idea what this is doing here - please call me!"

"Just in case any more work was done while I was out," the Mount Maunganui College teacher said.
She said she asked her neighbour when he was back that day if he knew anything about it, and his response was: "Nah, I thought you were putting up a carport."
Her next call was to the Tauranga City Council, but she said that was another dead end.
She wondered if it was a "random gift" as it had coincidentally appeared on her four-year anniversary of owning the home.

Her mum suggested it might be a prank and asked if she had annoyed anyone, which made Hucker laugh. She said it would be a very expensive prank to pull.
"I've got no answers," she said, still laughing.
"My current conclusion is that some tradies made a big stuff-up and just left it, which is annoying and random."
She said the pole wasn't blocking her, rather it was "just a random inconvenience" that made it harder to turn around in the driveway.
"It's not even round to swing around on," she joked.
She put a post on a community Facebook page in the hope someone who had been expecting a pole delivery would come forward.
Hundreds of people engaged with the post, and while it has not produced any leads, it has produced a lot of jokes.
"Have you called the pole-ice?" "Random post lol." "I find this post offensive, can you please remove it?"
Many were hanging on for updates.
"Everyone is so invested," Hucker said.
She hoped whoever did the installation would come forward to finish the story and get their pole.
"Everyone wants answers now, we've got to have some answers around why and how," she said.
She said if she didn't hear from anyone, she would have to take it down herself.
Her message to the person who put it there was: "We're only human and we all make mistakes ... I'm quite understanding."
"You've provided a lot of entertainment value for everyone, but can you please come and get rid of it?
"I do not need that pole."
This article was first published in the NZ Herald/Bay of Plenty Times by Cira Olivier and is republished here with permission.
Take your Radio, Podcasts and Music with you