The Wiggles' sweet gesture at terminally ill girl's bedside: 'A memory we will never forget'
Publish Date

Monday, 17 July 2023, 1:18PM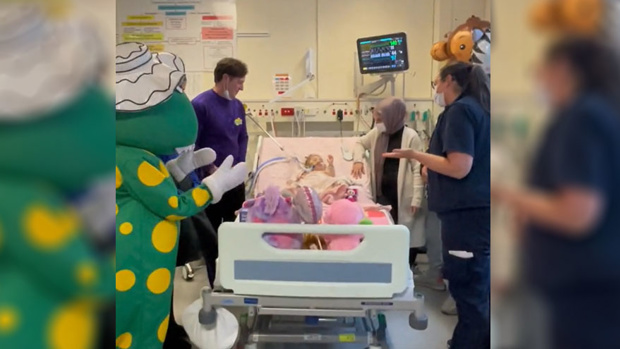 The Wiggles' sweet gesture for a terminally ill young fan has gone viral after they visited her bedside shortly before she died.
Purple Wiggle Lachlan Gillespie and Blue Wiggle Lucia Field - the daughter of the original Blue Wiggle Anthony Field - visited little Zahra alongside Dorothy the Dinosaur to perform Twinkle, Twinkle for her in hospital.
This week, her mum has shared the moment Zahra met the Wiggles on TikTok during her final days before she died from Leigh syndrome, a rare disorder that affects the central nervous system.
Sign up to Coast's newsletter for exclusive prizes and to keep updated with the latest.
"On Zahra's last day, she got a special visit from her fav [sic] Wiggles," Zahra's mum captioned the video shared on her TikTok account under the handle @keish-el.
She continued, "This day was so special to us, Zahra was obsessed with the Wiggles and for them to come and see her is a memory we will never forget."
Blue Wiggle Lucia commented on the video, "Lachy and I were so grateful to have met your beautiful family. May your beautiful little girl be happily resting".
The heartbreaking clip has since been viewed more than 85,000 times on TikTok.
Zahra's mum earlier shared another clip, revealing that her family's "lives changed forever" in April this year, when they took their daughter to emergency "because she was going blue in her sleep".
After an MRI scan showed inflammation on her brain stem, she was rushed to an intensive care unit.
The use of a bipap machine - non-invasive breathing support - helped improve her condition briefly, but Zahra's health worsened in May and she was diagnosed with Leigh syndrome.
Her parents then received the heartbreaking news that their little girl "wouldn't make it off the breathing tube".
On her final day, her doctors and parents decided to give her "one full day" off the tube so she could do "all her favourite things with family and friends" - including meeting the Wiggles.
This article was first published in the NZ Herald and is republished here with permission.

Take your Radio, Podcasts and Music with you