There are 75 bands hidden in this optical illusion - can you spot them all?
Publish Date

Sunday, 11 April 2021, 1:09PM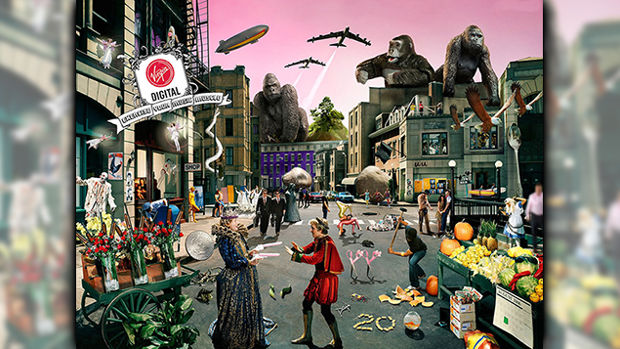 This is VERY cool ...
It's not your everyday optical illusion, but it is guaranteed to provide endless hours of amusement and head-scratching!
The image contains graphic representations of 75 band names. For example, there are guns in the basket with roses, which obviously represents Guns 'n' Roses.
How many can you figure out?
Scroll down for the answers...
Here are the answers:
1. The Cars
2. Blondie
3. Pink
4. Cranberries
5. Eminem
6. Pavement
7. Scissor Sisters
8. The Police
9. The Roots
10. Iron Maiden
11. Queen
12. Prince
13. Led Zeppelin
14. eels
15. White Zombie
16. B-52s
17. Sex Pistols
18. Radiohead
19. Blur
20. Gorillaz
21. The Pixies
22. Guns N' Roses
23. Smashing Pumpkins
24. The Lemonheads
25. Scorpions
26. Crowded House
27. Cornershop
28. The Cult
29. The Doors
30. Twisted Sister
31. 50 Cent
32. Talking Heads
33. Cypress Hill
34. Seal
35. Madonna
36. Deep Purple
37. Skinny Puppy
38. Ratt
39. Hole
40. Garbage
41. Yellowman
42. The Killers
43. White Stripes
44. Korn
45. U2
46. The Rolling Stones
47. KISS
48. Black Flag
49. Black Crowes
50. Bee Gees
51. Alice in Chains
52. Blind Melon
53. Phish
54. The Beach Boys
55. Red Hot Chili Peppers
56. Whitesnake
57. Jewel
58. Dinosaur Jr
59. matchbox twenty
60. Nine Inch Nails
61. Green Day
62. Spoon
63. Eagles
64. Dead Kennedys
65. Great White
66. The Postal Service
67. Cowboy Junkies
68. Cake
69. Pet Shop Boys
70. The Carpenters
71. 311
72. Jane's Addiction
73. D12
74. Go-Go's
75. The Vines