This delicious gluten free Creme Egg baked donut recipe is the perfect Easter treat
Publish Date

Friday, 12 March 2021, 8:59PM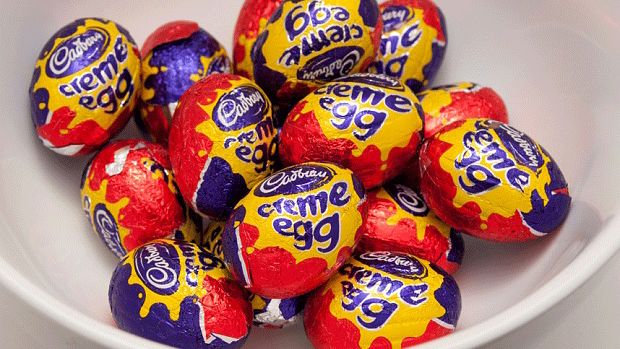 Allow us to introduce you to the best Easter dessert ever ...
London-based food writer Becky Excell has just shared her delicious recipe for Creme Egg donuts and trust us, this one is a must-try for every Creme Egg fan!
The recipe combines butter with nutmeg, cinnamon, eggs, caster sugar, gluten-free self-raising flour, xanthan gum, buttermilk and vanilla extract, as well as Cadbury Creme Eggs.
It's then baked in the oven for long enough to create a soft, light and chewy donut with a glorious liquid fondant centre.
READ MORE:
• Nigella Lawson shares her recipe for Decadent Emergency Brownies that will "melt in your mouth"
• Renee Wright reveals what she thinks is the actual recipe for KFC secret recipe fried chicken
Not only are they super easy to make, but they're even more delicious to eat!
Because what's not to love about delicious Creme Eggs oozing out of a donut?
Ingredients:
For the donut mix:
345g gluten-free self-raising flour
1/4 tsp xanthan gum
1/4 tsp ground nutmeg (optional)
1/2 tsp ground cinnamon (optional)
175g caster sugar
75g butter, melted
50g oil
2 eggs
150ml buttermilk
1 tsp vanilla extract
5-6 Creme Eggs
For the sugar coating:
100g caster sugar
50g butter, melted
Method:
Preheat your oven to 160C Fan / 180C.
Grease a cupcake/muffin tin either with butter.
Place your gluten-free self-raising flour, xanthan gum and caster sugar (plus nutmeg/cinnamon if you are using) into a large bowl and gently mix.
In a small bowl mix together your melted butter (must be cooled), oil, buttermilk, eggs and vanilla. Whisk until combined.
Pour your wet ingredients into your bowl of dry ingredients and mix them together. Try to mix as minimally as possible, just until combined.
Cut your Creme Eggs in half. DON'T cut them the usual way on the join, cut them the opposite way. Ensure each half has plenty of fondant in it.
Spoon a tablespoon or so of your mixture into each of your muffin holes.
Then place your half Creme Egg in with the fondant facing upwards. This will stop it from leaking out and vanishing during baking.
Spoon more of your cake mixture on top of the half Creme Egg – make sure it's fully covered and maintains its position.
Place in the oven for 18–20 minutes or until golden and cooked through. Once cooked allow to cool for a few minutes in their tin before gently easing them out.
When still warm carefully coat each in melted butter and then roll each in some caster sugar.
Enjoy!